As time marches on, my focus on what physical fitness means to me has intensified—perhaps like many of yours has. Resiliency is becoming a cornerstone, as I look for sustainable ways to stay fit and continue doing what I love.
In this article, I want to delve into how keeping our focus on our true needs paves the way for meaningful physical capability for a lifetime.
A big part of the process is my ongoing quest to be efficient, but not compromise the effectiveness of my training! Long gone are the days when I was intensely pursuing "intermediate to advanced" skills like the One Arm Handstand (OAHS), One Arm Chin Up (OAC), Handstand Push Up (HSPU), and other neat tricks. Fun times, but let's get real—life changes.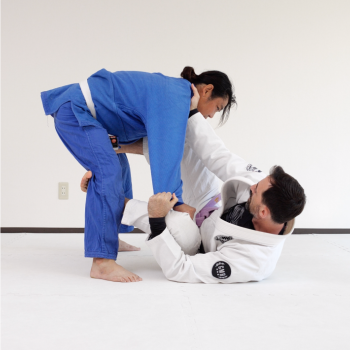 Keeping them in my routine wouldn't be helping me anymore, more likely they'd be holding me back.
Today, my training is all about allowing me to continue my passion for martial arts, especially since moving to the U.S., where my training partners are generally bigger, younger, and stronger than me.
Staying True to My Goals: Capability, Resilience, Maturing Wisely
It's easy to be seduced by the allure of adding even more training modalities and new exercises. Trust me, I've been at this for decades and have seen -and participated in! – more than my fair share of fitness fads.
Yet, I've stayed rooted in my core objectives. With lots of hard fought trial and error and learning, I've developed and curated a practice to bolster two fundamental goals—physical capability and resilience.
This has particular relevance as I juggle the demands of martial arts training and the natural aging process.
As I've grown older, I've become more attuned to the signals my body sends me.
The exuberance of youth often leads us to think we're invincible, pushing and pushing without much thought for the long-term consequences. However, the years have taught me the importance of long-term progress over momentary prowess. My exercises are chosen not just for their ability to challenge me today, but for their potential to support a lifetime of functional fitness.
View this post on Instagram
This is why I've stayed committed to fundamental full-body movements that are directly meaningful to my goals and needs.
The aim is not merely to demonstrate my strength and mobility but to sustain a level of performance that will serve me well over time. These foundational movements are akin to life skills—they contribute to my day-to-day functionality, enhance my resilience, and fortify my capabilities in more specialized practices like my martial arts.
I've grown increasingly discerning about what I add to my regimen. It's not about doing more for the sake of doing more; it's about purposeful integration.
Every new element is scrutinized through the lens of my priorities:
Does it serve my overarching goals?
Is it suitable for the stage of life I'm in?
If the answer is yes then it earns a place in my routine. It's about what can keep me in fighting form for the long haul.
Amplifying The Fundamentals Not Supplanting
It's always been drilled into martial artists since the first time we put on our pajamas, that continually improving our technique is the key to success. But, especially as we get older, some strength and a bit of muscle doesn't hurt.
The key is to not lose sight of your primary goals though, it can be easy to get caught up in all the particulars of building strength and muscle and that's fine if that's what you want.
But I'm looking to improve and keep my physical capacity for martial arts training for as long as I can. Not to get up on stage at a bodybuilding show…
My wife and I found ourselves frequenting the local YMCA for its convenience, even though gyms aren't really my thing. It was there that I encountered a rack of kettlebells. The simplicity and efficiency of kettlebells had long intrigued me, and I saw this as an opportunity to incorporate some weighted exercises into my home training, alongside my trusty pull-up bar.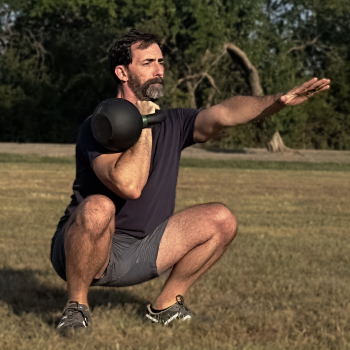 So I took the plunge, ordering a couple of kettlebells and I kicked off with the basics—swing, clean and press, and get-up—of which I was already familiar with from learning them years ago.
After awhile, I quickly realized that the get-up, dead snatch, and clean & thruster worked best for what I wanted to achieve. Alongside foundational exercises like push-ups, pull-ups, and locomotion, this simplified regimen is all I need to stay resilient both on and off the martial arts mats.
Structured Yet Flexible: My GMB and Kettlebells Blueprint
Here's a closer look at the structure I've found most effective for blending kettlebell work into my schedule.
I use the GMB Fitness 5P Framework (Preparation, Practice, Push, Play, and Ponder). This way of sectioning out your training works for anything from barbells and kettlebells to jump roping and synchronized swimming. Once you've gone through it a few times, you'll see how it applies to any physical training.
Preparation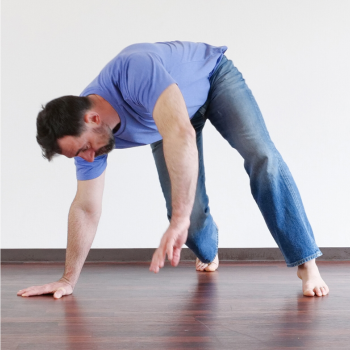 I begin with a few minutes of joint mobility work using GMB's foundational movements, the Bear, Monkey, Frogger, and Crab.
A couple of minutes each and I'm good to go. I've practiced these movements forever so I'm able to use them as mini-assessments and "check in" on how my body is doing. Then I can make the proper adjustments and spend some more time on what I need for the day.
That's one of the great benefits of a regular practice of these full body locomotion movements.
After this quick but comprehensive warm-up, I'm ready for more intensive work!
View this post on Instagram
Practice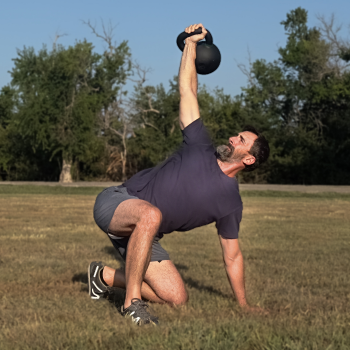 After warming up, I dedicate five minutes to kettlebell Get-Ups. This serves as a secondary warm-up but is also a focused practice time where I pay close attention to posture, alignment, and breath.
If you're already familiar with our programs, you know that this section of the workout is all about improving your ability in a chosen movement skill.
Focus on the quality of your performance and learning how your body feels and reacts to your efforts. This is key to improving your strength and mobility while also building total body control.
Whether it's kettlebell lifting, rock climbing, or a martial art, it's deliberate mindful practice that gets you where you want to go.
Push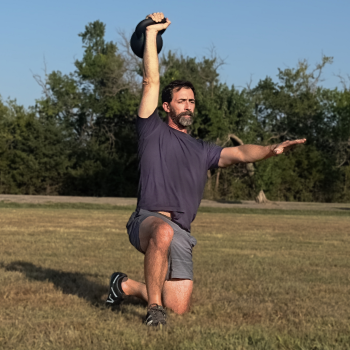 It's here that I integrate kettlebell work. I sampled a fair amount of kettlebell programs for a bit but none clicked until I discovered Eric Does Kettlebell. As I wrote above, I'm looking to consciously enhance my training, not just jump around from one shiny new thing to another.
I saw that this resonated with my training goals: it's structured yet adaptable, and revolves around my favored movements of clean & thruster and dead snatch.
My aim isn't to lift heavier and heavier weights. The journey with kettlebells serves my ultimate goal—maintaining a healthy, consistent presence on the grappling mat with friends.
Could I do this without kettlebells? Perhaps. But for me they fit well, adding fun and a unique challenge to my training. Even if there was a "better way", if it doesn't fit my temperament and needs then it's not really better.
In our 5P Framework, the Push section is for providing the appropriate meaningful stress to the body and stimulate adaptations.
We've found it best to do this with movements/exercises that you are more familiar with. This way, your exercise form is already dialed in so you can concentrate on your effort while still maintaining a high level of movement quality.
Then I wind down by hanging from my pull-up bar and performing modified pigeon and pancake stretches. This entire session, from start to finish, is done within 45 minutes.
Non-Kettlebell Days:"Play Days"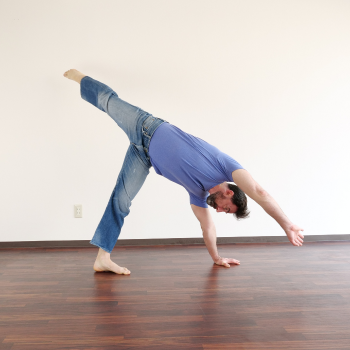 In our programs, we include Play at the end of the sessions, but for my current plan I decided to separate it into fully dedicated "play days".
These are days where I fully lean into my GMB training, letting my body guide me through various locomotion patterns.
Here my focus shifts from structured workouts to a more open-ended, intuitive form of movement exploration. These days serve as an fun mix of recovery and mindful engagement, allowing me to pay attention to any muscle soreness or tension that may have built up from my kettlebell or martial arts sessions.
Instead of adhering to a specific set of exercises, I engage in full-body locomotion activities that give me the freedom to follow my body's cues. These could be foundational moves that I've practiced for years, or they could be more challenging, complex sequences.
Because I've invested time in mastering these movements, I've cultivated the freedom to improvise, creating a dialogue between my body and my practice.
The primary goal here isn't to break new grounds in athleticism but to deepen my understanding of how my body moves and feels. This is a shift from years past, where I was more focused on learning new skills or crafting complex movement combinations. Now, these days are about tuning into what my body needs, whether it's stretching out sore muscles, working on alignment, or just enjoying the fundamental joy of movement.
So, in essence, my Play days are my time to engage in unscripted movement exploration, practicing a range of locomotion exercises from the foundational to the complex. This not only aids in recovery but also enriches my understanding of my physical capabilities, serving as a mindful check-in with my body's status.
For a more detailed example, check out this video and follow along!
I hope you can see that I wanted to share how I added kettlebell training not just to describe using kettlebells, but also how to approach your training in general. This structured yet flexible approach keeps me agile and ready, both on the grappling mat and in daily life.
Identify and focus on the physical skills and movements that are most relevant and beneficial for your individual needs. Whether you're an athlete or simply looking to enhance your daily life, the essence of this approach is to find a regimen that suits your values and what you really want to get out of your exercise training.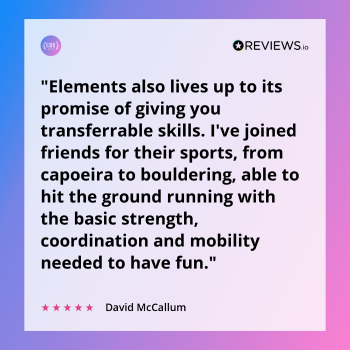 By aligning your training with your goals—be it improving performance in a specific sport or simply maintaining a healthy, agile body—you'll be better equipped to adapt to life's various challenges, whether that's excelling on the grappling mat or lifting a heavy box without strain.
So, the focus here is not just on the 'what'—using kettlebells—but on the 'how'—finding a training plan that is both rigorous and adaptable, paving the way for a more resilient and capable you.
Learn The Building Blocks for Everyday Fitness
Our Elements program helps you master full-body strength and dynamic movement, ensuring you're prepared for any physical demands in your daily life.