Seamless. Graceful. Powerful. Smooth as butter.
These are the sorts of things that come to mind when you see a truly beautiful mover, someone who can flow seemingly effortlessly from one movement to another.
You see this with dancers, gymnasts, and acrobats, as well as with athletes like soccer or basketball players.
But while their movements may seem effortless, they're not really. That level of movement is the result of countless hours of drilling and skill training to perfect their coordination, balance, and control through different speeds and quick changes of direction. All that time and effort put in early on is what makes for effortless movement now.
You may not have countless hours to dedicate to moving better, but you can improve the attributes that will get you a lot closer to that smooth and seamless movement you love watching.
Let's look at what it is that makes a person go from broken robot to hot buttered ninja, and how you can tap into that.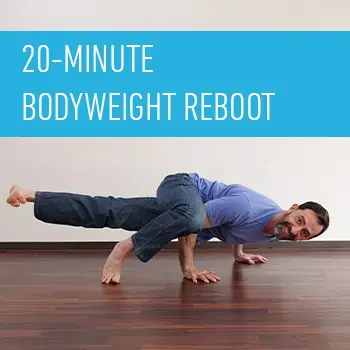 Try a Free Bodyweight Workout
Learn proven exercises that have helped thousands of people get stronger and move better.
Why Do We Love Watching Flowy Movement?
There's something mesmerizing about watching people move with such expertise—it's no wonder gymnastics is the #1 most watched olympic sport.
Why are we so enamored with this kind of flowy movement? Easy:
Because it looks cool.
Here's GMB Trainer Eduardo playing in the grass:
Yup, if you thought you'd evolved past 8th grade in how you make value judgements, sorry to break it to you—we never grow out of liking things because they look cool 😉
But the real reason this way of moving looks so cool in the first place is because being able to move seamlessly is a clear indication of the level of skill or mastery the person has achieved. When you see someone move like that, you just know that they've mastered the art of moving in the ways they need to for their sport or activity.
"Flow" is a term that gets thrown around a lot in the world of training and movement, but it doesn't mean too much until you understand it from this perspective.
Those drills practiced over and over to improve speed, coordination, agility, and more all add up to movement that flows without sputtering or pausing. When there's a disruption of flow, due to gaps in physical attributes, we see it instantly and it takes that "wow" factor out of the equation.
Why Should You Bother Trying to Learn This?
Even if you have no aspirations of becoming a professional athlete, there's tremendous benefit you can get from learning to bring some of that seamless effort into the way you move. Training the attributes that make up that kind of movement is well worth your effort for two main reasons:
1. It'll make you stronger, smoother, and more controlled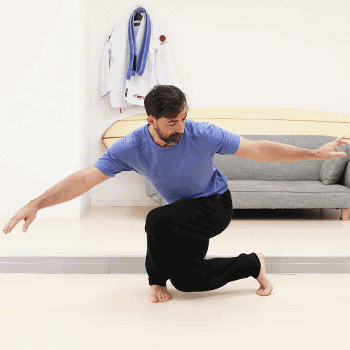 When you focus on making your movements flow seamlessly from one to the next, it's kind of like painting a picture in one brushstroke, without letting your paint brush lift off the canvas.
You'll necessarily have to focus on moving with control, slowing down or speeding up as necessary to make sure you don't run into any hiccups. You have to pay attention to the details, focusing on your breathing and where you're holding tension in your body. If you miss any of these many pieces, you could wind up with a picture that looks quite different from what you envisioned.
Paying attention to all these details will make your body so much stronger and more capable. So that, even if you never fully achieve that pro-level flowy movement, the very act of aiming for that kind of movement will make you better.
2. Life doesn't happen one movement at a time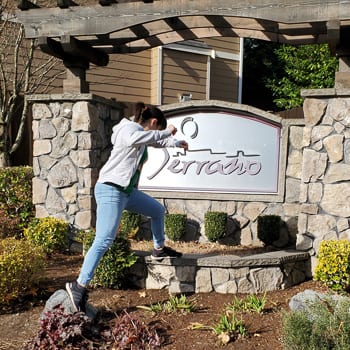 Of course, when you make your body stronger and improve your overall control, you're going to see a big impact on your training goals, whatever they may be.
But (possibly more importantly), you're also going to see a lot of carryover into your daily life.
Because life doesn't happen one movement at a time. You're not a robot (probably), so you move your body through countless positions and movements throughout your day. And when those movements don't flow seamlessly from one into the next, well, most of the time you're probably fine… until you're not.
You may need to climb up onto a rock to get around a deep puddle, then shift into a squat as you rotate your body around to drop down onto the balls of your feet. You cleared the puddle—huzzah!
What if your movement between those different positions is "herky jerky" or just isn't very smooth at all?
Best case scenario? You slip and fall into the puddle, possibly ruining your outfit. Worst case scenario? You somehow injure yourself at any of those different position changes along the way.
We talked about this in more detail in another article, but focusing on the "in-between" movements, and smoothing out the way you transition from one position to the next can have a big impact on how you move through your day-to-day life, and can be a big part of injury prevention.
So, How Can You Bring Flow into Your Movement?
Making this approach a priority in your training is not something that comes naturally to most people, since it's so different from what we're told exercise is "supposed" to look like. But there are concrete steps you can take to start moving more smoothly and seamlessly.
Practice Basic Movement Patterns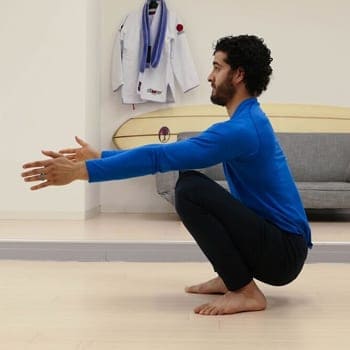 Smooth movement, like anything that takes a lot of skill, starts from the basics.
Practicing and getting good at basic movement patterns is the first step to gaining a high level of control over your body, and continuing to practice those movement patterns is essential to keep making progress in smoothing out all the kinks in your movement.
Basic movement patterns include squats, push-ups, and animal movements, along with foundational mobility work for your hips, shoulders, wrists, feet, and back.
Work on these movement patterns to start to develop your coordination and strength, flexibility, and control.
Add Complexity Gradually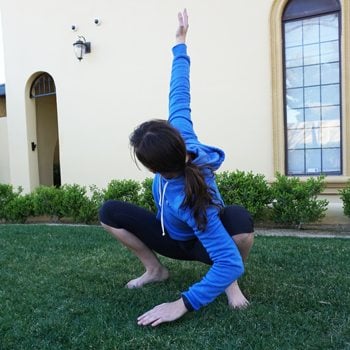 As you gain mastery over those basic movement patterns, you can gradually begin to add in complexity. Complexity doesn't mean just making movements harder, but rather, adding layers of variability that aren't possible in singular planes of motion.
There are many different ways to add complexity to your movements. We talk about that a lot move in this other article, but it can be as simple as changing your angle or adding in a balance component.
Adding in layers of complexity will help you solidify your mastery over those movement patterns.
Train Combinations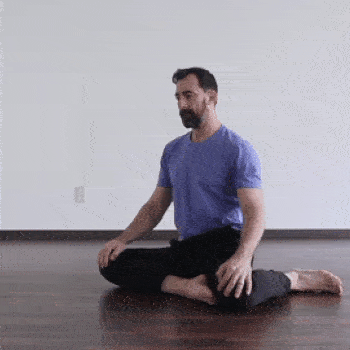 The next piece of making your movements flow seamlessly is combining different movements together. You'll learn to go from one exercise or movement into the next, then the next, and so on. For instance, you may go from a squat into a monkey (a lateral moving squat) into a cartwheel, then back into a squat, ending off with a forward roll.
In the beginning, of course, these movements won't flow smoothly at all, but over time, you can smooth things out.
Focus on Quality Over Intensity
One of the big mistakes we see is people trying to muscle through movements or try to merge this style of movement with getting as intense a workout as possible. There's a time and a place for intense exercise, but when you're working on making your movements flow smoothly and seamlessly, intensity won't get you there. Quality movement will.
The goal should always be to "make it pretty" by paying attention to the details and trying to make your form smoother and smoother each time you practice. Eventually, you'll achieve that "wow" factor you love watching.
Make Your Way Toward Beautiful Movement
Seamless, beautiful movement is achievable, even if you don't have hours upon hours to spend on drills like professional athletes do. It's just a matter of putting smart and focused effort into the attributes you need to make your movements flow without sputtering.
In our programs, we go through the four stages described above:
First, we practice basic movement patterns to improve our fundamental attributes: strength, flexibility, control, coordination, agility, and balance.
Then, we gradually add in layers of complexity to these basic movement patterns, which solidifies our grasp of those patterns.
Next, we start combining movements, learning how to efficiently move from one position to the next.
Finally, we work on smoothing all those movements out by focusing on our quality of movement.
You may never be a pro athlete, but you can certainly tap in to that incredible body control that makes your favorite athletes move the way they do. You just need a smart plan that takes you through the right steps to get there.
Develop Seamless Movement with Mobius
Not all movement flows are created equal. After all, walking is just "flowing" from one step to the next but it's never gonna make you an athlete.
So we decided to make a program to teach the core athletic skills most training leaves out.
It combines rotational patterns, level changes, and transitional movement flow to help you build agility that transfers to any athletic environment. The result is seamless, efficient movement even in dynamic situations.
The program is called Mobius, and you can check it out below.
Build Agility and Athleticism
Mobius is a guided program in physical re-education. You'll develop the kind of dynamic agility that leads to confident grace and seamless movement in virtually any environment.