I remember the opening scene of Enter The Dragon when Bruce was dodging a kick from Sammo Hung. He flung himself backward onto the ground—flat on his back—and then sprung up back to his feet.
🤯 Uhhh, how'd he do that?
If you can't picture it, here's Lead GMB Trainer Rose demonstrating the move:
If you're like me, you may have tried to imitate Bruce and ended up with a sore tailbone after a few tries. This was before Google and YouTube, so I couldn't just do a quick search for a tutorial.
It wasn't until years later that I learned this move has a name: the kip-up, or as we call it, the Floor Kip.
(We make this distinction so you don't get it confused with the kipping movement we teach you how to avoid in the muscle-up.)
This tutorial will show you step-by-step how to get your Floor Kip.
It will take some practice. But the good news is that even just working towards your Floor Kip will help make you more agile in other parts of life. So let's get into it.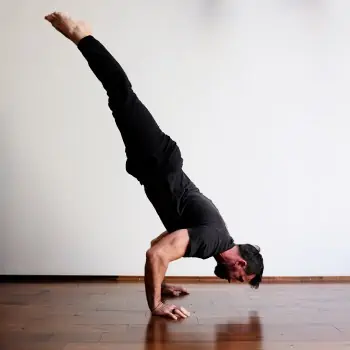 Get 16 Proven Strength Tutorials
We'll send you our best methods and progressions for building practical strength, yours free.
The Basic Floor Kip Progression
No one just does this trick on accident. Here's a quick breakdown of what you need to learn.
There are 3 positions you'll need to consider when working on your Floor Kip:
The Plow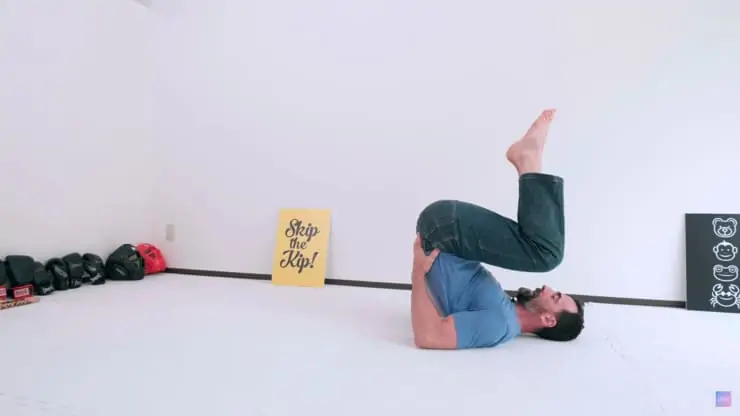 This is the first position you'll need to get comfortable in.
You'll rock back with your knees up and tucked, with your head flat on the ground. The further you bring your knees back toward your ears, the more power you'll be able to generate as you kick your feet up and then downward toward the ground.
Next, you'll work on the bridge.
The Bridge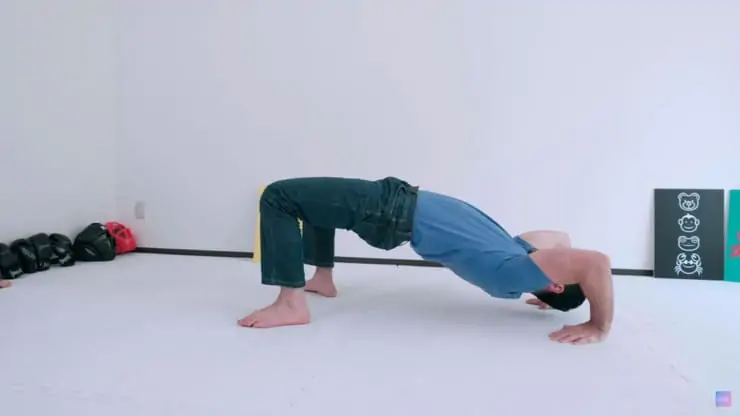 This is the second position you'll want to get comfortable in. See that Ryan has good flexibility in his shoulders and wrists to stretch them back while getting his upper back off the floor.
From here, you'll want to work on bailing (abandoning the movement safely when you know you won't stick it).
The Bail
You'll want to learn how to fail safely, that way you don't bruise your body (and ego). Since this is difficult to show in a single image, watch the video tutorial below. 👇
Floor Kip Tutorial:
🤔 Troubleshooting The Floor Kip
When you see Ryan or Rose do it, the kip-up looks effortless, but despite how fluid it is, there are quite a few moving parts.
And just like any skill, the Floor Kip can be learned with a little practice.
To do it, you need a good mix of strength, flexibility, and body control, which makes up the groundwork of all our programs.
How Most People Attempt This Trick
You might find yourself searching Google, watching YouTube videos and following a tutorial that breaks down the steps of the movement from start to finish.
But many tutorials only show you how it looks, while glossing over the building blocks that make it possible.
So you might give it a go, but you can't quite get it because you lack the upper body strength or flexibility in your back and wrists.
Look at the upper back, shoulder, and wrist flexibility that enables Rose to get her hands in position to spring upward: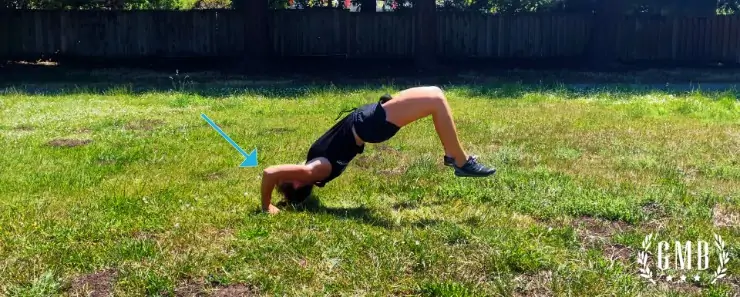 Or you don't have the hip and ankle flexibility to land properly and get your weight shifted over your feet.
For instance, good ankle and hip mobility will allow for a proper squat position. See Jarlo's and SheenRu's squat form here: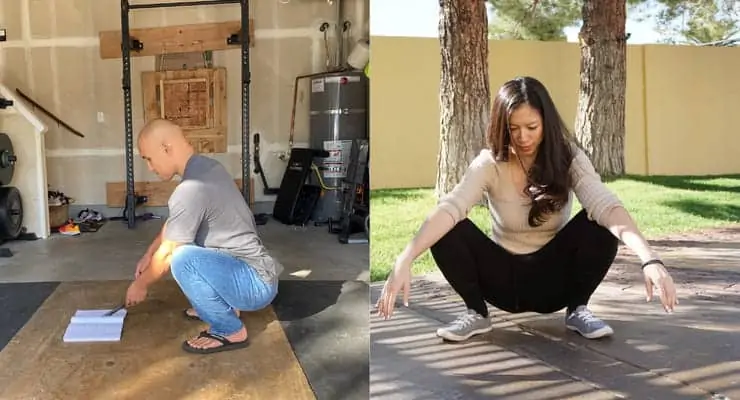 Understanding your weaknesses will let you know what to start working on. By determining a strength deficit or a lack of flexibility, you can begin to work on the building blocks that allow you to learn this skill.
Unlock The Floor Kip: Requisite Strength & Flexibility
The Floor Kip requires your entire body to work through various flexed and extended positions.
Think about it; from start to finish, you need a good amount of strength in your legs and arms, at least enough for a squat and push-up.
You're using your legs to kick your body up and forward and then using your hands to spring your body off the ground with your arms and shoulders, all in a fluid motion.
Since this movement requires a good mix of strength and mobility, you may have to do some dedicated work on various areas of your body before you can start practicing the movement.
For example, if your lats, shoulders, and/or wrists are tight, you probably can't get your hands onto the ground while lying on your back without some strain or compensation.
Addressing Your Tight Back, Hips, and Ankles
For a healthy range of spinal extension, you'll want both a strong and flexible back.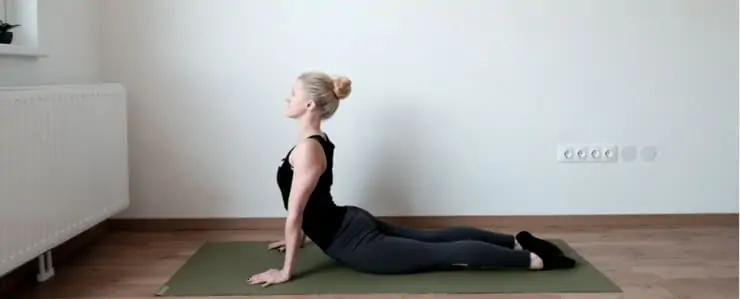 If you're stiff, give our back stretches routine a try.
For a great squat, you need good ankle, hamstring, and hip flexibility. Without adequate ankle mobility, you won't be able to get your knees over your toes far enough.
And if your hips and hamstrings are tight, your lower back is likely to round as you squat down, throwing you off balance.
If you have restrictions with your squat, you'll first want to work on improving your flexibility in your lower body before you'll be able to safely spring upward and land properly.
Enhancing Your Lower Body Mobility:
Improve hip mobility with these 8 focused stretches you can do any time of the day.
Increase your ankle mobility with a simple routine for your feet and ankles.
You can improve your hamstring flexibility with 6 tips we use to release tight hamstrings, making the squat position more comfortable.
How To Improve Upper Body Mobility:
Use our shoulder mobility routine to increase your upper body range of motion.
Pay attention to your wrist strength and flexibility too.
Now that you know how to make the improvements physically, let's talk about the confidence portion of the Floor Kip.
You can be the most athletic person in the world, but if you don't have the confidence, you may not try it out. And if you do and fail, you might get scared and never revisit it again.
While even the strongest of people lack adequate flexibility in their hips, ankles, back, shoulders, and wrists, they can still get more flexible without lengthy and boring static stretching routines.
👉 We recommend our Mobility program if you want to loosen up all over.
Building Confidence By Learning How To Bail
The way we build confidence is through practice. Competence is confidence, if you'd prefer a nice cliché.
Think about when your parents finally removed the training wheels from your bike. You probably crashed and burned a few times.
But after enough tries, you were riding around without a second thought about falling.
👋🏻Know this: you're gonna screw up your first few tries. You're going to fall. It's inevitable. Even Ryan and Rose still make mistakes. Everyone does.
Learning how to fall is a great skill in and of itself. We also recommend learning the Floor Kip on a very soft surface, like training mats, soft carpet, or the grass outside.
Don't try this on concrete or hard surfaces until you are absolutely sure you've mastered this movement. Even then, be careful.
How to Practice and Work it into Your Training
After you've gone through a session of Elements, Vitamin, or your preferred style of training, you will be fully prepped to start playing around with this movement.
Here's GMB Trainer Eduardo working the Floor Kip into his session of play:
Don't Stop With The Floor Kip
Skills, like the Floor Kip (kip-up), handstand, or cartwheel, are all built on basics and attributes.
When you create a strong foundation in the basics, like adequate mobility, strength, and coordination, you're then able to acquire more difficult skills as a result.
For example, when you're able to do a Kip-Up, the strength and mobility you gained in the process will lend itself to making other skills like handstands much easier to accomplish.
In our Vitamin program, we explore moving in different ways and help you add to your current capabilities.
So if you can't do the Floor Kip right this instant, practice at the level you're at now and focus on building up to it. Because let's be real, you probably won't get it down in one afternoon. (unless you're a freaky athlete)
Not only will you make progress on the Floor Kip, you'll get stronger, more limber, and have the confidence that transfers to everything else you want to do.
To level-up with more athletic-style skills, you need Vitamin. 👇
Skill-Based Training for Slick Tricks and Skills
Build confidence and creativity in your movement by practicing fun skills every day (even the Floor Kip), so you can enjoy real freedom of movement.