Are you stuck trying to get your first chin-up? Frustrated you can't build more upper body strength, no matter how much you work out?
We hear from women all the time who want a stronger back, arms, and shoulders. So we're going to show you exactly how to build more upper body strength without having to step foot in a gym.
Here's proof: GMB Client Morgan getting her first chin-up. 👇
"My husband and I found GMB about a year ago and have been having heaps of fun with Elements and Integral Strength since then. We really like how versatile the programs are and how there's so much support and clear instruction available (and so much of it for free on your website too!).

"We've loved challenging ourselves, playing with different movements and seeing real progress over time. Getting that chin-up was a massive achievement for me! 🎉" — Morgan
Now if you're thinking "there's no way in hell I could do that!", I want you to suspend your disbelief for just a second.
A chin-up is a bad ass movement that takes some time to master, but we have a history of proving to people they're capable of a lot more than they think, even when starting from zero.
When you follow our systematic method, you'll surprise yourself with what your body is capable of. To show you what's possible, we'll start with a practical progression and how to train for your first chin-up.
Strength Building in Action: How To Get Your First Chin-Up
Below we have GMB Trainer Rose taking you through a practical progression of how to work toward a chin-up based on your current level of strength.
Here are the key moves to focus on:
Dead Hang: While supporting your body, grip the bar and let yourself hang. You can make it harder by gradually lowering your body and eventually practice hanging with your feet off the ground. A good goal is to aim to hang from the bar for around 5-10 seconds. From here, you'll want to move on to activating your lats.
Lat Activation: Notice that Rose is pulling her body up ever so slightly. It's a small movement that yields big results. You want to focus on pulling your shoulders back and down. It doesn't take a lot of movement to feel your lats and upper back activating.
Once you're comfortable with these, it's time to move onto using assistance to improve your chin-ups.

This progression walks you through doing assisted chin-ups, assisted holds, and then assisted negatives.
Assisted Chin-Ups: This progression helps you get a feel for what a full range of motion chin-up feels like, but you're in control of how much pulling you have to do because you get to use your legs to make the movement easier.
Assisted Holds will help you get comfortable hanging from the bar at the top of the movement without having to pull yourself up, which is probably not possible at this point.
Assisted Negatives: Now that you're comfortable hanging from the top for a moment, you can start to lower yourself down by starting in the top position. With negatives, you want to let yourself down with focus and control. When you do it this way, you're strengthening your back and arms through the eccentric (lowering) portion of the movement.
Now after you get these done, we're going to work on using negatives without any assistance, which will set you up for your fist chin-up.
This progression sets you up for doing a full, unassisted chin-up, but take your time with these and make sure you're confident before you make your first attempt.
Full Jump Negatives are a great way to use your legs to reach the top position without exhausting your arms and lats on the way up. The same idea applies here for the negatives: aim to take it slow and be in control the whole time. Only do as much as you can, and always aim for good form.
Half Jump Negatives are the next logical progression. Now you get to use your arms and lats to initiate part of the movement by jumping halfway up and letting your upper body do the rest. Once you're comfortable doing these and feel in control, it's only a matter of time before you can do a full chin-up.
If you want to work toward your first chin-up, Integral Strength is the program for you.
I was never able to do this before
I've lifted weights consistently for over 25 years. When I started Integral Strength, I was skeptical that I could develop the strength and flexibility required. Any flexibility I once had was gone, due to sitting at a desk well over 40 hours a week and driving. I also wasn't the best about stretching after lifting. At least, not consistently. My flexibility has greatly improved, so much so that I am close to getting my L-sit. I also achieved my first unassisted chin-up from a dead hang. In all those years of weight training, I was never able to do chins without the assist of jumping from the ground.
💪🏻 Why Building Upper Body Strength Matters
More strength makes everything easier… from carrying the groceries into the house to tossing around bags of dirt for that vegetable garden you've been working on.
Building and maintaining strength is even more important as we age because we steadily lose upper body mass every year after the age of 30 [1]. 😵
Yes, we're all decaying at a steady rate. ¯\_(ツ)_/¯
👉 But you don't have to accept this fate if you actively work on getting stronger.
Being strong isn't just about doing cartwheels and chin-ups. It's about making you more capable for anything in life—what we call Physical Autonomy.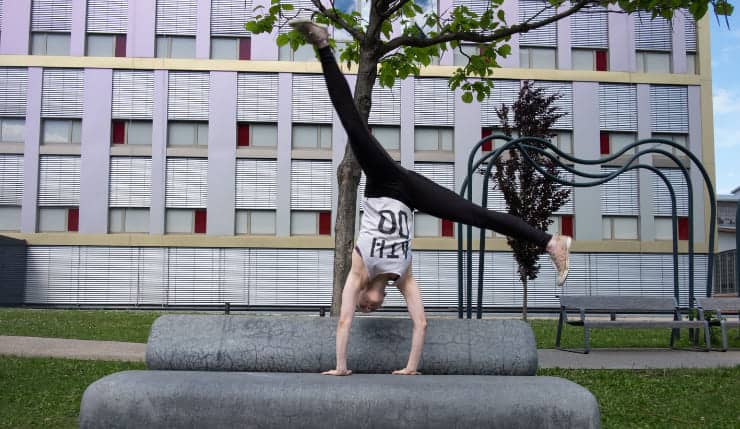 Wether you're working on a chin-up or a handstand, we go about getting stronger using the following principles.
👊🏼 5 Principles of Efficient Strength Building
1. Start Where You're At.
We understand not everyone has a lot of natural upper body strength. So we suggest you begin with an assessment to see where you're at.
It's okay to be unhappy with your strength levels, but it'll give you a good idea of what you need to work on first. That way you don't start off with something too difficult and get discouraged from day one.
2. Consistency Beats Intensity.
No matter what you do, consistency always beats random spurts of hard effort. It's especially true when you're working on getting stronger because the more you practice a movement, the faster you'll gain proficiency.
Movements like the chin-up require full body coordination and capability that only comes from regular exposure to the skill.
We'd rather you work on your skills 15 minutes per day, 4 days per week, instead of once per week for 60 minutes. This way you get 4x the exposure, which means 4 chances to make improvements.
👉 More practice = better and quicker results.
3. Autoregulate Your Training.
"No pain, no gain" is a common approach to working out, but not even Olympic athletes push themselves to the max every session.
We use a concept called autoregulation, where you can adapt your training based on what your body needs.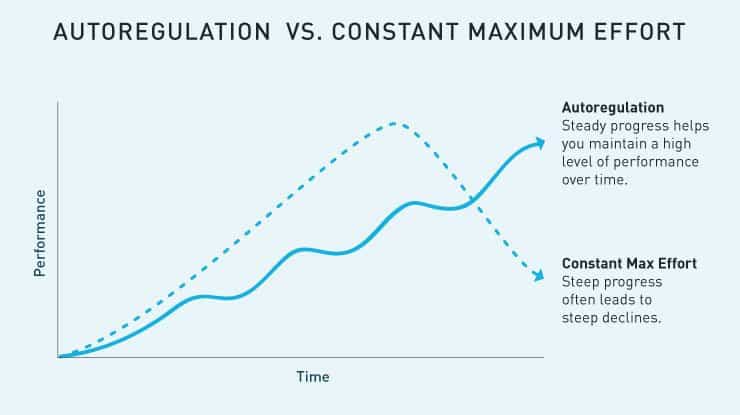 For example, if you start your session and you're not feeling as fresh as last time, you don't have to push yourself to the limit. Reduce the intensity, do as much work as you can, and you'll make greater gains (and be safer) in the long run.
Achieving a goal (like your first chin-up) is difficult, and it's easy to get hyper-focused on it for months at time.
But this leads to diminishing returns for most. We recommend that you focus on a strength goal for a set period and then move onto another goal, regardless of how much progress you made toward your initial goal.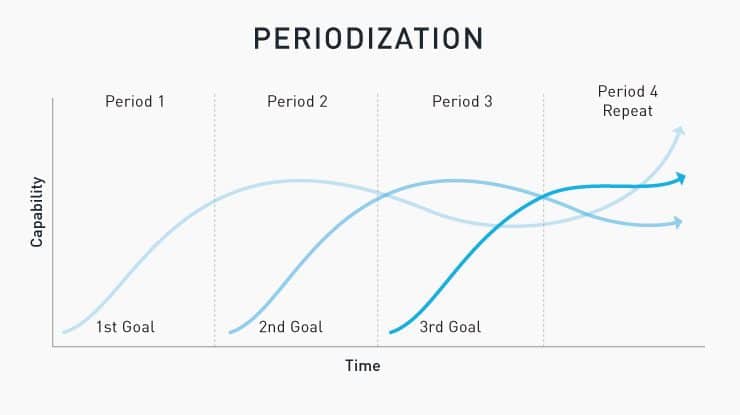 By doing this, you get to take a break from working hard on a skill and focus on something else.
But don't worry, you won't lose all your progress. You'll be able to re-engage your training with the new abilities you've gained from your last training cycle.
An example could be that you work on your chin-up for 4 weeks, and then work on L-sits for the next 4 weeks. When you come back to your chin-ups, you'll build on what you gained from your L-sit work.
5. Use Smart Training Progressions
There are multiple variations of each movement you can work on at any given time. If a variation feels too difficult, don't be afraid to regress the movement to something that is more doable.
💡 An exercise regression is a way to reduce the difficulty and intensity of a movement.
For example, if you're working on your chin-up negatives, but start to feel tapped out in your session, you can regress to doing assisted chin-ups with your feet on the ground to get more reps in.
The key to making steady progress is to use variations you're comfortable with but are still challenging.
Now, let's go over the right way to push yourself so you continue to get stronger over time.
When To Practice And When To Push
"Practice" and "Push" are parts of the 5P framework we use in our GMB Method to help you develop a new skill.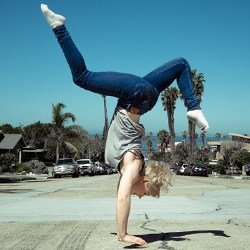 For the Practice portion of your training, we want you learning new movements properly, no matter how long it takes. This is where you pay close attention and hone in on your form.
The Push portion is where you give a lot of effort.
It's the part of your training that will help you make gains over time.
Here are the 5Ps explained:
💡 Unlike most traditional workout programs, we aren't overly focused on the number of reps you do. Instead, we want you focusing on form and control.
In our programs, we have you set a timer for 2-10 minutes, depending on which movement you're working on. This way, you can Practice the movement as much as possible in that period with good form, while taking as much time for rest as you need in between attempts.
The Push portion of the training is where you can get in more volume, which is how you build more strength over time.
During this phase, you will want to do one variation of the chin-up that is slightly easier from what you did in Practice.
For example, if you worked on the assisted chin-ups during your Practice, you can regress the movement to pulling prep or grip work during the Push portion.
This is the part of your workout that will feel challenging. Your heart rate will increase and you'll probably sweat a little. 💁🏼‍♀️
Now for some common questions…
But How Many Sets And Reps Should I Do? 🧐
Ideally, you'll do as many reps with good form (slow and controlled) as possible within the timed interval.
It's not about doing a predetermined number of sets and reps because we want all reps to be done with good form, regardless if you do 2 or 20.
The main focus is on improving what you can do, not relying on what should be done based on arbitrary set and rep goals.
You will improve over time, being able to do more consecutive reps, as long as you stick with this method. Focus on quality rather than quantity.
💡Remember, you can always revert to an easier variation if you start to get tired during your Push portion.
How To Manage Intensity The Right Way
At first, you'll want to work on the movement variation you're doing with the goal of getting multiple reps consecutively. For example, you can make it a goal to get 5 good reps in a single attempt.
If you can't get 5 reps in a row, you can do something called Cluster Reps, where you pick a rep goal (5 total) and then take 15-30 seconds of rest in between each rep.
This is automatically baked into our process when we take you through the Push part of your workouts on Praxis (our web app). You have a time limit to work on the movement, and your goal is to get as many quality reps you can within that period.
With enough consistency, you'll be able to do consecutive reps for multiple sets.
Here's GMB Trainers, Rose and Leah cranking out some chin-ups:
Case Study - "I'm the Most Robust Physically I've Ever Been"
My first program was actually Vitamin. I had no idea just how much my vocabulary of movements would expand over 28 days. It had me pulling off moves I never imagined doing!
It makes me feel almost superhuman to be able to do these things at my age and not say that the best years are behind me. I suppose at this point in time, being able to still achieve new skills, to learn new things, it's very revitalizing for me.
In fact, I feel that now, as I'm approaching 40, I'm the most robust physically I've ever been.
How Long Should You Work On A Chin-Up (or any skill)?
We recommend focusing on improving a skill for about 4 weeks at a time.
This is a long enough period where you can get stronger on the movement and log some progress. From there, we recommend shifting gears and working on another skill as we outlined in the 3rd principle above about cycling your training.
When Is It Time To Do A Harder Exercise Variation?
When what you're doing becomes easier than it was before, but we know it's not always so cut and dry. So we made a little chart to help you understand it.
We use a scale in our programs to measure Quality and Ease. You can use it to rate each set you go through: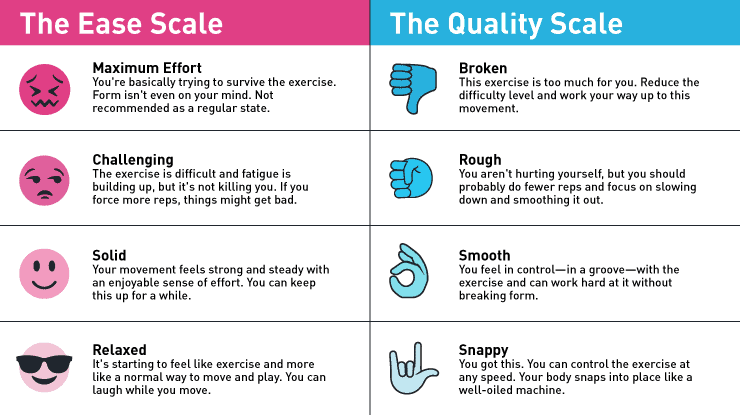 If you're doing an assisted chin-up, and your level of Ease is at Maximum Effort while your Quality ranks at Rough or Broken, this is a sign to make an adjustment.
It could be that you drop down to an easier variation or that you cut your training session down to the bare minimum so you don't overdo it. We encourage you to push yourself, but only to what you're capable of for any given workout.
Alternatively, if everything feels relaxed and snappy, you might want to try working with a more challenging variation that you can still do smoothly and solidly.
What If I Get Stuck Working On A Skill?
If you hit a plateau and can't make any more progress, look at the bigger picture:
🥱 You could be struggling with recovery.
If you're very sore, or not sleeping well, you might consider taking an extra day between workouts. It's totally fine to rest as you need to.
😫 You might be doing too much.
If you're working on your first chin-up, while lifting 5 days per week, and running a 5k each morning, your progress will suffer. It's better to work on 1 or 2 goals at a time because you'll have more energy and focus for those activities.
Once you make some progress, you can pick another goal to work on.
🤸🏼‍♀️ Consider working on a different movement.
Stalling out on an exercise is normal. So we recommend picking another strength movement to work on (periodization). You can always come back to the original movement in a few weeks.
We cover how to overcome plateaus in training because they're a natural part of the process.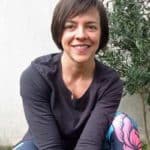 Amanda Chung Fat

Paris, France
Case Study: First Program I've Ever Done Start to Finish
I tried the home programs that everybody knows about, and I was just bored to tears. And I tried Crossfit and that was okay, but it took up all my free time.
But I did Elements, and it was the first program I'd ever in my life just gone start to finish. I felt myself getting stronger. My back pain started to go away. My squat got better. The flexibility was coming without me really having to work on it directly. It's magic. The movements are tough, but they don't feel as tough as they should be for the gains that you get, if that makes sense, because it's so much more fun.
When my kids are around I say, "Let's do some exercises." You can do it no matter who you are, where you are, what your situation is.
Building more upper body strength is something you're capable of. And we know because we've helped thousands of women get stronger and move better with our programs.
If you're ready to unlock some gains, we have a few recommendations for you below. 👇
How To Get Started Building Upper Body Strength
Regardless of your experience, we can help you get stronger, flexible, and confident to move how you want.
If you're new to training your upper body, you're coming back after some time off, or you've recovered from injuries, Elements is the best place to begin.
If you're already training and feeling stuck, or just ready to take your upper body strength to the next level, we recommend Integral Strength. 🚨 Ability to do pull-ups or push-ups not required.