In this special episode, Ryan interviews Amir Solsky, celebrity fitness trainer and founder of Fundamentals of Movement.
Amir talks about how he came to be one of the founders of Capoeira in Israel, and his journey to where he is today. He also discusses his philosophy of health and fitness, and how he defines his unique approach to training.
Here's a snippet of Amir's philosophy:
To me, [health] means being connected to the roots… Looking back at how our species developed and trying to conform to that in modern times.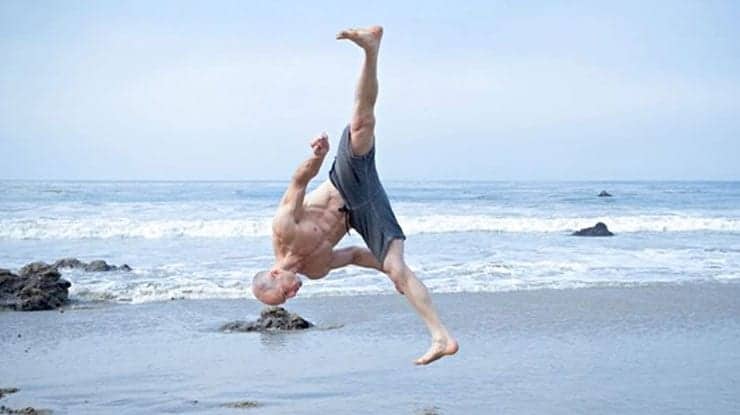 If you've ever watched incredible movers like Amir with amazement, this episode will give you great insight into how he does what he does.
Here's what we covered in this episode…
(01:00) Who is Amir Solsky, and how did he get into capoeira?
(04:15) All about Amir's company, Fundamentals of Movement.
(05:10) Why Amir moved to the U.S. from Israel.
(07:08) Amir describes what it is that he does, and his style of training.
(08:28) A day in the life – Here's what a typical day looks like for Amir.
(10:25) Basic nutrition advice from an expert.
(12:10) How does Amir fit everything in? He has such varied interests!
(18:40) What is the definition of health? Here's Amir's definition.

Ryan: Hey. Welcome to the GMB Fitness Skills Show. Andy unfortunately or fortunately is not here with us today but I do have a special guest. Amir Solsky is with me. We're going to be talking about all kinds of cool stuff. So sit back, grab a drink, maybe coffee, maybe wine depending on the time of the day and get ready for a great interview with Amir.

[Music]

Ryan: Hey everybody out there. Today I'm very pleased to have a special guest. Today I have Amir Solsky with me. Now Amir, celebrity fitness trainer and nutrition expert. Just read a little bit of his bio because it's pretty incredible. He has been involved with the body movement exercise, things like that for many, many years now. Started off with martial arts, Capoeira Contra-Mestre. Did I say that correctly? I hope I said that correctly.

He's the founder of Fundamentals of Movement in Capoeira in Los Angeles. He has got classes there for all levels. So if you're in the Los Angeles area, be sure to check him out.

Now an interesting thing, Amir and I have become friends via the Facebook and love what you're doing Amir and of course not just the handstands but everything involved.

I just really wanted to chat with you and learn more about you. So let's go ahead and start it off. If you can start off first, give us a little bit of background about yourself and we will go from there.

Amir: Sure. I'm coming from Israel, grew up in Tel-Aviv and started with movement practice from actually from yoga and more from philosophy. Actually I used to hate sport as a kid. My whole family would exercise and I would sit and just watch. But then I kind of got into first Buddhism and all kinds of those types of philosophies, body cleaning, all this salt water, those kinds of stuff like that, meditation and then I got to control your body, control your mind stuff and started doing a lot of stretches, flexibility stuff and I'm talking about the age of 15.

So it took me a year to get like a front split, two years to get side splits, like worked really hard every day for hours with those splits and jogging and stuff like that and kind of started to get into my body, got into capoeira a little bit before 18. So kind of late but back then also capoeira just started in Israel and my teacher was the one who brought it back over there and I was there – I think it was his first month teaching.

Yes, so I'm considered the founder of the capoeira in Israel as well. Yeah, I did a lot of work with that there. I had many groups, lots of students and I had like manager. I was doing shows all over the country for a while and also kind of – while I was doing that, there was also researching other things so I came to the US when I was 20, went to Berkeley. I was looking for information about nutrition, about some of the books.

I was studying them. Then I went back to Israel and I went to school where – like the men's sport facility where also most of the Olympic team, they train there and that's where I got exposed to gymnastics. I was kind of playing with flips in capoeira but not really very good form. I mean by then, I already kind of knew all the moves but just not very clean.

I started training with a teacher of the Olympic team of gymnastics in Israel and then I organized those, so the class can open up for the rest of the people. The rest of the capoeira people there used to come and that was like a really nice scene. By then I was already – I was doing some lifting – weight lifting. That's what I also went to school for.

Ryan: OK.

Amir: Together actually with aerobics instructions also they took and the name that I put on my system is called Fundamental of Movement. Actually it was the name on my certification where I graduate there. It's [0:04:11] [Indiscernible] Fundamental of Movement. I got it in school but no one really used it as anything. I was thinking that's actually a very good name and smart to what it really entails.

I don't even know they might teach it or really view it the way I look at it, like the understanding of what I do with basically building movement for people, working, addressing mobility, joint work and really movement because when you do body building, which wasn't – or aerobics, we don't really come necessarily from a mindset of movement. So …

Ryan: Wow. Very, very, very interesting background. This is great. So you're back in Israel and then you went back to Israel for a little while and then obviously you came back because now you're in Los Angeles. So what brought you back to the United States?

Amir: So I traveled a lot in my late teens and my early 20s and something – from a very young age probably watching movies and whatever, but I always wanted to live in America. That was like a dream. Probably a lot of people have that dream but I did too.

It was a little process and I traveled here a few times as a kid and back – my first time I just came as a big troop with like 30 people, like sort of a month, a few days in each place. I came back myself a few times and back then when I was a kid, I also – I didn't really have a job. I was in a level where I was like – so I was trying to kind of figure things out and then traveling, seeing what's needed and what I could do. I went back and my first certificate, I went to massage school. I've been certified as a massage therapist. Then I went to sports school and I got certified in sports.

Then I always was interested about health and all these things that I did that made sense to me that I kind of picked up and collected along the way and I tried probably any movement form under the sun. In the young age I started swimming and I did rock climbing and I went through dance and I took ballet and jazz and I've even been on TV back home as a jazz dancer for a beauty contest of Israel. Yeah, it's funny and I worked in entertainment, in hotels, in like – we have a big city for tourists. On the Red Sea, I went there for a couple of months. We did shows.

So I was always in that world of show and always exploring other stuff, other martial arts, other body building, all these things. Then I came here and kept developing here. I got money from circus work, aerial stuff, hand balance, hand to hand, all this stuff on the balancing, hands on one arm, all that kind of stuff. You know that.

Ryan: This is incredible. With your extremely varied background, I think it would be very difficult maybe to try and explain to somebody really what you do. So if someone comes to you and wants to train with you, I hate to say and pigeonhole it into one thing. But how would you describe what you do? If someone comes to you and asks – I don't want to say, "What's your job?" I actually have the same problem. People ask me what I do and it's kind of difficult to tell them exactly what I do. But how would you describe your style of training and what you do.

Amir: You are right. We both have that problem because it's a very broad field and there are so many things that we do and for the most part, I mean right now it's funny because you ask me and I actually end up really talking about myself a lot.

But for the most part when I'm with people actually, I usually end up kind of interview them. See what is it that they do. What interests them? So then that's something maybe I could offer to them. Some people like one thing. Some people like another thing. The connection would be some people would do this one [0:07:56] [Inaudible]. So …

Ryan: Yeah, that makes total sense. Yeah, exactly.

Amir: It's hard to say in one word. I mean it's too …

Ryan: It's the same and I totally understand what you're saying because we're pretty much the same thing basically. What do you want to do? I will help you do it.

Amir: Exactly. I try to promote health. That has always been my main focus and the reason behind all the little things. Then we can go by health in many different ways and it's a very big thing. So we work different for different people.

Ryan: Yeah. So a lot of the videos that I see, obviously you're doing – teaching capoeira and so I know that it's a very big part of what you do. But of course it's not the thing as we just talked about. But could you describe a little bit about one of your – I don't want to say typical days. But if you had a perfect day in your life, what would that be for you?

Amir: So my days are going to have a routine and also my days are all different because I can have a day like yesterday where I worked out like probably eight hours throughout the day, like waking up early and I had like – what was it? I did like maximum strength Olympic lifts at like 8:00 in the morning, so like an hour and a half killing it.

Then I went to do some stunt work for some 2 hours, 2.5 hours out in the sun in the park, with the people just like moving intensely with another person and [0:09:22] [Indiscernible] them. It's like non-stop in the heat. Then I had a little break in between and then I had a gymnastic lesson. I teach more upper body strength, which I'm going to say [Indiscernible].

So that's kind [Inaudible] but then there's a recovery day where sometimes there will be like a day maybe I don't do anything at all. Just hang out with friends. There are a lot of things that wasn't there. I like to sit and have my coffee and read a little bit. I'm a big bookworm, always reading and stuff.

Ryan: You and I have so much in common man. But that's so refreshing to hear. That you work very hard obviously and then you do have your off-days, your recovery days, and so it's just so great to hear it because I know like what we do. You do have to train quite often, the skill work that we are doing, no matter what you're doing. But that recovery is so important, right?

Amir: Yeah, that's when you get stronger.

Ryan: Yeah, exactly. So what about nutrition? I don't think we need to talk a whole lot like what your diet or anything like that. But let's say maybe there's someone who comes to you and you could give some very basic, basic advice to a person about their nutrition. What would you say? I know it's different for every person but …

Amir: Yeah, exactly. I talk to people and you just look at first and you can see that they have different eating habits. Some people are more on the right track so maybe little things can – and another people completely off and so there will be other things.

One thing that I try to really stay away from and it's inevitable, but people always asking me what I do. If you say it, then I will just freak them out because for them even if they try to like –I do many [0:10:59] [Indiscernible] throw them completely off of their balance and it's just not going to be right. So I don't believe in radical changes. I always try to implement small changes to the better direction, so it will be stabilized and people can agree about it.

I try to educate people and give them the right information or direct them to the right information. So I like for people to do their own research. I always encourage that but even people have their own time issues or whatever. So when I work with people, I work in a way when someone is just asking me different – every situation is different.

Ryan: So good. It's wonderful. Something else in there that you mentioned I think, it's just such a wonderful thing to hear. If you don't have the answer or maybe it's good for somebody else to go work with another person, you let them know. I think that's a sign of a very good coach, to let the person that you're working with know that maybe you're not the person to help them out with. It takes a big person to say that. That's really good to hear, very good to hear.

What about training? So you did mention like yesterday was a pretty crazy day for you. But obviously there are probably some big goals that you're working on. How do you fit it in? How do you fit everything in basically?

Amir: So I work with [0:12:16] [Indiscernible] and I do cycles for myself like I do for other people. It changes all the time and different cycles have different emphasis and [Indiscernible] certain elements of the …

If you pick your skill and my goals – I put my goals for myself, the yearly goal, but then also do – the goals change many times with the emphasis. So it's a very big picture. It's very complex. I think it's really that I'm always learning something new, so my body always adapts to a new intensity, to a new skill. I like to think that I'm always improving myself because so far I haven't really lost much of what I had. I was actually improving and gaining more new stuff.

So I think I don't really believe in staying in the same place. I think like [Indiscernible] is very temporary and I believe either forward or backward. So it's [0:13:14] [Inaudible] so I always try to push forward. Of course pushing forward, sometimes you have to go backwards on some things because you overkill it and you go backward. But that's part of the movement forward.

Ryan: Exactly. So yeah, and it's always constantly changing, but like you said, as long as you're making these small, small increments, moving forward always. Personally I like to think of rather than chart being like this, that it's an upward spiral. We might come back but we're still going up. So we're constantly improving and always good to hear.

Amir: I think it's part of the running forward too. Maximum strength session, a lot of intensity and volume and now also the [0:13:56] [Indiscernible] strength stuff and I don't have the strength. But it's not really going backward because now my body is processing everything that happens and whenever I bounce back, I will be stronger than I was before. So it is part. It's a very specific weakness.

Ryan: Yeah. Skill work too. How do you judge or how do you kind of program some of your skill work? So I know your one-arm handstand, that's something that I see you working a lot on and obviously me, that's – I love being upside down and I have my ways of doing things and I'm sure you have your ways of doing things. I want to know how you got started with that. How did you really start training that? Do you have a coach or did you just decide, "You know what? I want to do it," and you went on your own or what?

Amir: I work with many people throughout the years with all of my skills actually. I have such a long list of people that I worked with. So it always came down to inspiration. It's not like – I cannot say that I have one coach. But definitely been inspired and training together with many people and travel a lot and constantly I do. So actually the handstand, the basic one thing is pretty easy for me. In capoeira, I started …

Ryan: OK, sure.

Amir: [0:15:13] [Indiscernible] I was already holding solid hand stand. Just about try anything and do it. It's just right. Then probably it wasn't a necessarily good handstand. Broken funky handstand but I was balancing in the same spot. I could hold like a mini handstand for like – after like a month or two in capoeira. So for me that did it.

Then I got to gymnastics. So I needed more – I worked again with the coaches of the Olympic team. There's a guy named Vinadi [0:15:39] [Phonetic], another guy named Yuri [Phonetic] and working on different alignment and locked in a position and building more strength in it. So then I was working on the gymnastic handstand. Later on there was another friend of mine that I grew up with from a very young age [Inaudible]. He was working on the one-arm handstand and that kind of got me interested in that. Later on, I worked with another friend from [0:16:09] [Indiscernible] from Vegas, Yuval Ayalon.

Ryan: Oh, yeah. Yuval, yeah.

Amir: Probably one of the biggest help I had to work the actual one-arm was from him. I was always traveling to Vegas and training with him as much as I could. Still always – still online and really like he gives me – always giving me nice stuff and gives me comments.

Ryan: He's such a good guy Yuval. Yeah.

Amir: I love him and play. Just play with [0:16:36] [Indiscernible]. There are so many people that do it. So once you're already kind of swimming in the ocean, all the fish come and swim with you.

Ryan: Oh, yeah. It's such a wonderful way of saying it and what I love about even the handstand and the one-arm handstand community is how everyone is so supportive of each other. Other names that you just named, I'm friends with all of them too and just the inspiration that you get from other people and I like how you said that it's not just one coach but a coach of many and those people help. That's why I think it's so wonderful.

You're an inspiration to me too and so that's actually why I wanted to talk to you today. So it's just great to have this community of like-minded individuals without the big ego, people helping each other and wanting each other to be better. I think it's wonderful, absolutely fun stuff, yeah.

So let's look at a question here. I got a question. So if a guy walked up to you, and he's asking for advice, but you only had a couple of minutes to give him your best tip, what would that be? It is a tough one because people ask me this all the time and I'm like, "Oh, it depends on the person and everything like that." Let's say you've only got like one or two minutes and the guy walked up to you and he's like, "Hey, I really love what you're doing. What's something that could help me right now?"

Amir: I would ask them. What's your thing? Do you try to lose weight? Do you try to get the handstand? Do you try to get the back flip? Are you trying to be healthier? Are you trying to get jacked up? You know what I mean? So these, just say something generic. Personally me, my drive is health. But that's just a word because if you look at all the stuff that I do, a lot of people do the same things for complete different purposes. So we need to say what's there and what – it's such a general question that I don't really know.

Ryan: It's good. That's kind of what I was hoping. Like maybe it's hey – so that's leading into the question I really wanted to ask you. What is health to you?

Amir: To me?

Ryan: When you speak of health, what do you mean by health?

Amir: Well, for me, it has really turned out to being connected to the roots, to my roots as Homo sapiens. So looking back with lifestyles and how our species develop and try to conform to that and to that in modern times with all the options and all the knowledge that is out there, which is why I am also such a big bookworm. There's so much. It's so intriguing to me. So both with movement, both with nutrition. Yeah, basically it's trying to get the most out of life and enjoy all the world as much as possible. For me being connected to my true self and to my roots and that for me there is purest joy. It feels so true and it's so strong and powerful and fun.

Ryan: Wonderful. Love it, love it. Where can we find out more about you? So obviously we're going to post. We will have the link and everything for all of you listening where you can find out. But is there one particular place that you would like people to go to get more information about you and what you do?

Amir: Well, one thing of course, you can always Google my name. There's a lot of stuff that comes out but other than that, there are two sites that I have. One is FundamentalsofMovement.com. The other one is Capoeira Los Angeles for my capoeira school and my Facebook is where I post all the stuff, Facebook, Instagram. Instagram I have a lot of videos of lots of different things, all kind of little movements. My Facebook is where I come up with different thoughts or different things that come up. So …

Ryan: Yeah, it's good stuff. Yeah. What I will do is we will go ahead and post those links for all of you that are listening.

Amir: Sorry to keep you but one more site actually that I also made for – more specifically for fat loss and for building endurance, strength, Powered by Tabata. It's also a site that I have with …

Ryan: That's a good.

Amir: … a good friend of mine. Yeah, a lot of Tabatas out there, great ideas.

Ryan: Yeah, that's great. I am glad you brought that back up because I actually forgot about that. Sorry about that but yeah, that's a great site too. So we will be sure to put that up there too. All right. Anything else you would like to add? Last words?

Amir: Well, just thank you so much and also I've been following your – listening to your iTunes. My partner from Powered by Tabata, we were sitting and looking and there's so much good stuff. You've been doing it for so long.

Ryan: Thank you very much.

Amir: It's interesting. So I feel very honored to be on your podcast.

Ryan: Well, the pleasure is all mine and it has been great. I just hope we can do a follow-up hopefully and do it soon. Maybe we could have you do some videos or something. So thanks again Amir. I will be sure – we're going to post those links for all of you listening out there and hope to talk to you again soon. Thanks man. See you.

Amir: Bye.

[End of transcript]

Be sure to catch the next episode by subscribing to the GMB Show:

The Future is in YOUR Hands!

Left to our own devices, we'd soon be churning out episodes on the sorry state of Mexican cuisine in Osaka. Answer these questions and tell us what you want to hear:

';