Editor's Note: We're excited to introduce this guest post from Al Kavadlo, one of the world's leading experts in bodyweight strength training and calisthenics. Today, he's sharing his expertise on achieving the elbow lever. Scroll down to learn more about Al.
The elbow lever is a unique hand­balancing skill that will challenge your strength, mobility, balance and coordination.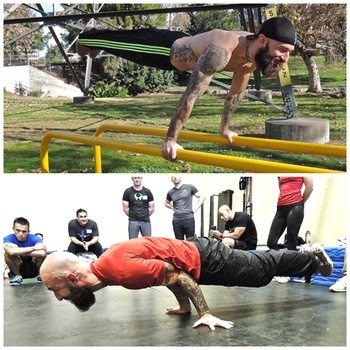 Like many bodyweight exercises, it has roots in several different cultures and styles of movement, including yoga and breakdancing, as well as the modern calisthenics and "street workout" scenes. Some may know this move by other names, such as peacock pose, but no matter what you call it, the elbow lever is a great exercise. Plus it looks pretty neat, too.
Though it looks similar to a planche, the elbow lever is a less difficult skill, due to the fact that your upper­body is resting on your arm(s).
As the name implies, an elbow lever is performed by leveraging your bodyweight against one or both elbows while balancing on your hand(s) with your body outstretched, typically in a horizontal position.
Prerequisites for Learning Elbow Levers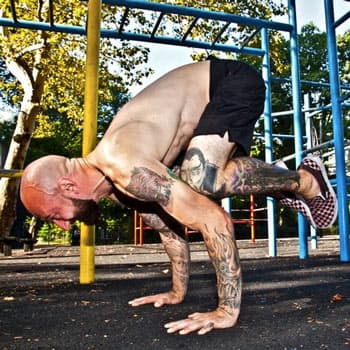 Before you embark on learning the elbow lever, it's important to make sure your wrists are strong enough to handle supporting your full body weight.
As such, you should have a solid foundation in push­-ups. It may also be helpful to first learn the crow pose.
In addition to requiring strong, flexible wrists, you'll also need better than average shoulder mobility in order to get your elbow(s) in the proper position.
If you have issues with internal rotation, you'll need to spend some time working on that before you will be ready for this move. The "bound eagle" stretch from yoga is my favorite way to begin loosening the shoulders for the elbow lever.
Elbow Lever Progression #1 – Bent Knee Lever
Once you've gotten those prerequisites out of the way, you are ready to attempt a bent knee variation of the elbow lever. Like most bodyweight exercises, shortening the length of the body is a very simple way to regress the difficulty level of this exercise.
Though you can practice on a variety of surfaces, I recommend starting out on a bench, step or any other flat, raised object. This will allow you more room to lift your legs into position, as opposed to the limited amount of space when starting with your hands on the floor.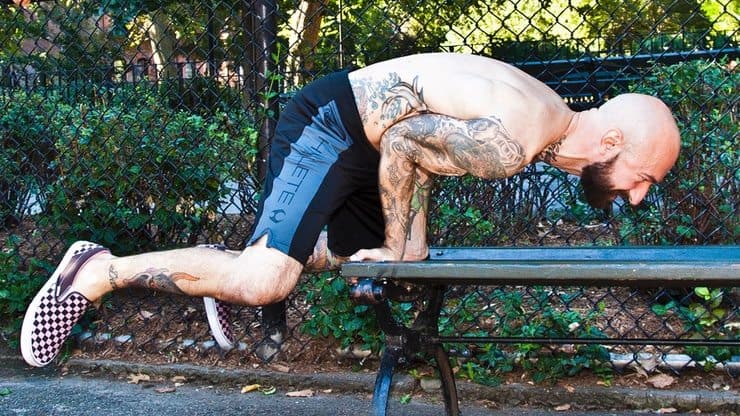 Begin by placing your hands flat on the object with your fingers facing toward your feet and your palms a few inches apart (you can also wrap your fingers around the edge of your platform if you prefer).
Bend your elbows and think about making a shelf with the backs of your arms upon which you will rest your hip bones and torso.
Lean forward and bend your knees as you place your elbows against your abdomen.
Next, tense your midsection and shift your weight forward until your feet lift up off the floor.
Common Issues with the Bent Knee Elbow Lever
If you are able to get your feet off the ground, congratulations! You are well on your way to performing an elbow lever. If you were not able to get your feet off the floor, there are a few things that may be happening.
The most common problem is an inability to keep both arms inside of the hips simultaneously. If this is the case, you're probably better off trying a variant where one arm is inside of the hip and one arm remains outside until you can get better range of motion in your shoulders.
For some people this one arm in/one arm out variant will be more difficult than keeping both arms in, but for folks with shoulder mobility problems, it may be a more viable option for now.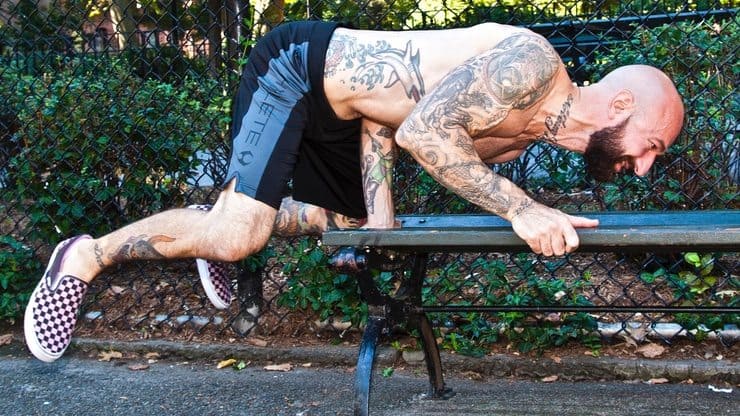 Whether you have both elbows in or not, make sure to keep your abs contracted and extend your lower back as you raise your feet off the ground. It is also important to pitch your upper­body forward in order to counterbalance the weight of your bottom half.
Additionally, you need to make sure the angle at your elbows is correct. Many people will bend the elbows too much or not enough. The ideal angle for your elbows is somewhere around 120­130 degrees.
It may take some time to get used to the sensation of having your elbows jutting into your abdomen when you are working on the elbow lever; beginners tend to find it especially unpleasant. With practice, however, you can eventually learn to make peace with it.
Elbow Lever Progression #2 – Straight Leg Double Arm Lever
Once you get a feel for supporting yourself on your elbows, you can start to work toward fully extending your legs and straightening your back.
Eventually you will get comfortable enough to completely lengthen your body.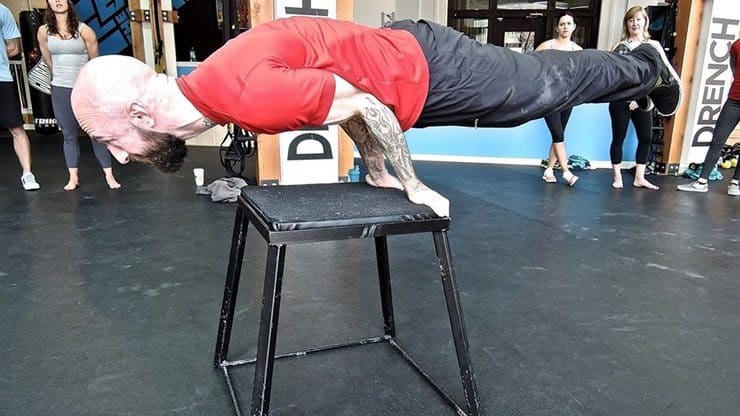 The more you extend your legs, the more you may need to increase the angle at your elbows. Your hands need to remain about halfway between your feet and your head.
After you're able to hold the elbow lever on an elevated surface, you can try it on the floor, which may make it a bit more challenging to get into position. You won't have as much room to let your legs dangle, so you'll need to know how to get into it right away.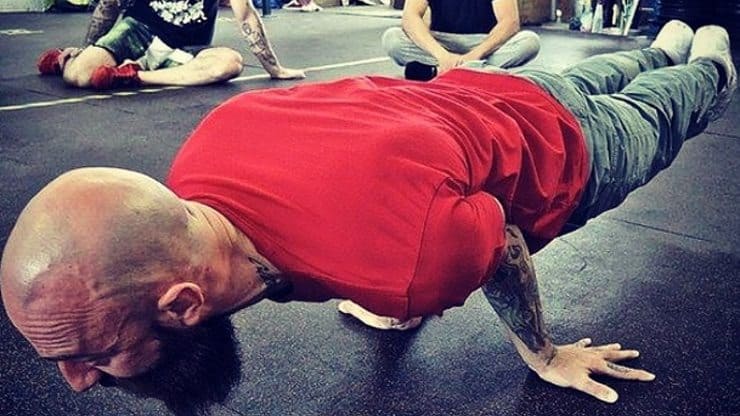 You can also experiment with turning your wrists out a bit more and trying different hand positions.
Elbow Lever Progression #3 – Single Arm Elbow Lever
Though skilled hand­balancers have a way of making this move seem effortless, the one arm elbow lever is a very challenging feat, so be patient if you endeavor to add this one to your arsenal.
I recommend you aim for a solid 30 second two arm elbow lever hold prior to beginning work on the one arm version.
Like the standard elbow lever, you can begin on an elevated surface with your legs bent or in a straddle as a lead­up step to performing the full move with legs together.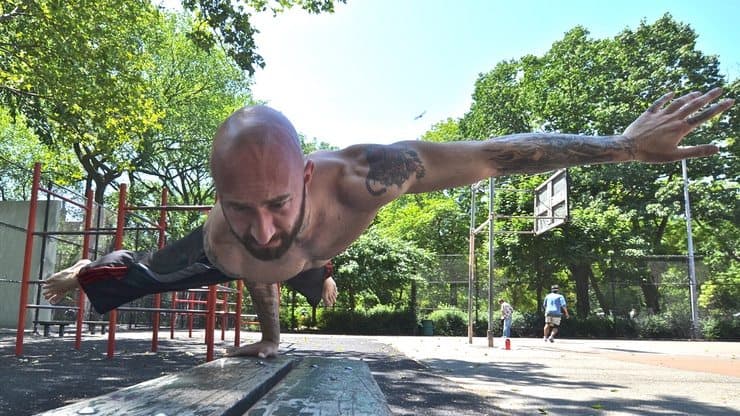 Start with one arm in and one arm out – the same position I advised on the basic elbow lever for those who could not get both elbows inside their hips at the same time. From this position, you can spot yourself with your outside hand and gradually shift your weight off your fingers and onto your main hand.
The position of the elbow on your balancing arm will be pretty much the same as in the two arm version. Though the ideal placement can vary a bit from person to person, it is generally best to aim to keep your elbow close to your hip. It's also helpful to use your outstretched arm to help counterbalance the weight of your legs.
It takes a lot of trial and error to find the sweet spot for the one arm elbow lever, so be patient. With enough practice, however, you will eventually get the feel for balancing this way, then you can start to work toward longer holds and eventually start bringing your legs together.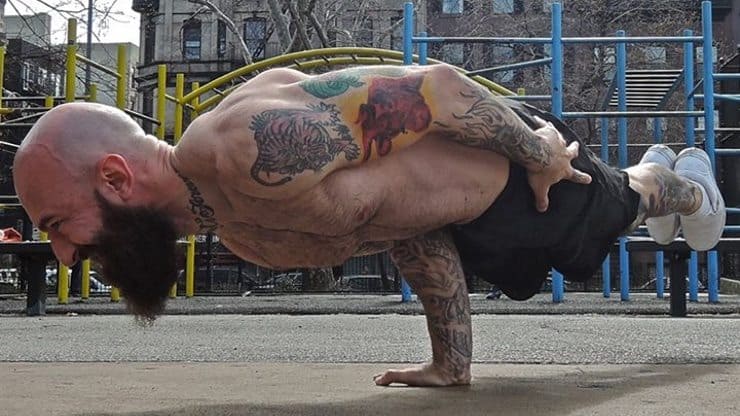 As you refine the skill, you can transition to practicing on the floor or other objects. You can also experiment with moving your extended arm to your side to make the move more difficult.
Rotating the torso sideways is another fun way to add a "twist" to the one arm elbow lever. No matter which progression you are working on, there is always a new challenge in the world of elbow levers. Have fun and enjoy the ride!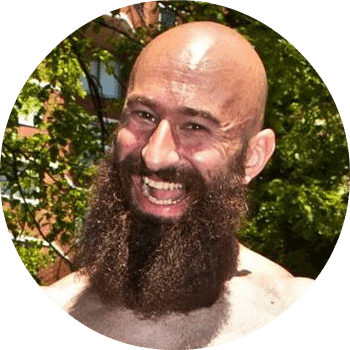 As the lead instructor for the Progressive Calisthenics Certification (PCC), Al gets to bring his unique coaching style to fitness trainers and enthusiasts around the globe.