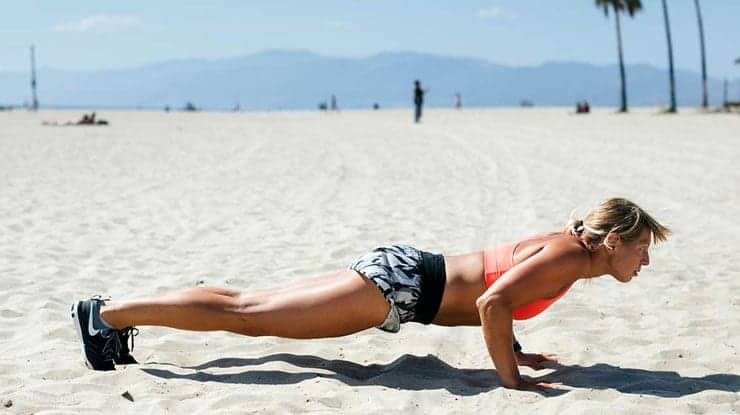 Finding your way in fitness can seem difficult.
It takes a concerted effort to test, experiment, and discover what works for you in order to accomplish your personal goals and ensure it fits in with your existing lifestyle.
On this episode of the GMB Show Ryan welcomes Krista Stryker, personal trainer and founder of 12 Minute Athlete, where she develops and shares fitness routines that combine bodyweight and skills training with HIIT (High Intensity Interval Training).
Ryan and Krista discuss her path of experimentation with different systems and how she went from being bogged down by conventional fitness to discovering a combination that works perfectly for accomplishing her goals and fitting in with her desired lifestyle.
You'll hear Krista describe how she took what she liked from each system and what was working for her and adapted it to create the routines she uses now. Routines that combine the best of both bodyweight training and HIIT.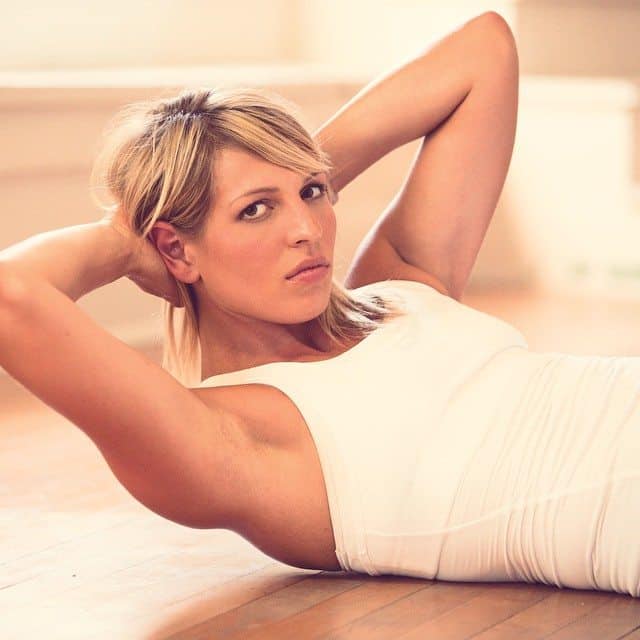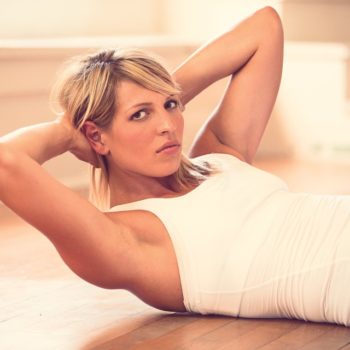 Krista Stryker, is an NSCA certified personal trainer and founder of 12 Minute Athlete. As a personal trainer in New York City, she got fed up working out for hours a day, only to find herself overtrained, injured, and having little time for anything else.
She created 12 Minute Athlete to share incredibly effective HIIT workouts with the world—and help people of all fitness levels ditch their excuses and get in shape in as little time as possible.
Catch Krista on The 12 Minute Athlete, Facebook, YouTube, and Instagram.
Click here to see all our podcast episodes.
What you'll hear:
2:40 – What led to Krista creating 12 Minute Athlete?
6:10 – What exactly is HIIT (High Intensity Interval Training) and what can it do for me?
8:30 – How to effectively combine skills training with HIIT conditioning for building a stronger leaner body.
15:10 – Here's how Krista keeps up with her fitness and nutrition while traveling.
20:50 – What is the best way to get started with incorporating HIIT training into your existing routine?
How To Get The Best Of Both Worlds: Combining Bodyweight And High Intensity Interval Training
Ryan: Welcome to this edition of the GMB Fitness Show. Now on today's show, I'm talking with Krista Stryker of 12 Minute Athlete, Krista has an interesting background. She studied many different things ranging from cross-fit to bodybuilding type of workouts. She came up with the idea of the 12 Minute Athlete based on HIIT training. In this interview, we talk about how HIIT training is a great way to help you get done with your workouts in a very quick and efficient way, so that you can move on and enjoy the rest of the things in your life that you really want to work on.
We also talk about skill acquisition and how you can use HIIT as well as skill acquisition in order to get a better body and even possibly faster results. Some other thing that we talk about include traveling throughout Europe and some of the way that she changed up her workout and how she looked at her nutrition in a way that still allowed here to enjoy the local cuisine and even have a couple of glasses of wine without worrying about how it's going to affect her body or her training.
Now, Krista is great because she really focuses on what makes her feel good instead of just exercising for the sake of exercising. I think you're really going to enjoy what she has to say about this. All right, let's get into the interview.
Welcome to the show. Krista, how are you doing?
Krista: I awesome, how are you?
Ryan: Thank you for being here. Lets jump right into it. If you could start off by giving us just a little bit of info about you and the 12 Minute Athlete.
Krista: I'm the founder, exciting, of the 12 Minute Athlete, which is basically a high-intensity interval training workout regimen where we do incredibly short, effective workouts based on calisthenics, cross-training and functional fitness. We focus on a lot of exercises you can do without a ton of super fancy gym equipment that use nothing but your own body weight. Also functional use of equipment like pull-up bars, dip bars, jump ropes, fun stuff like that. Our philosophy is basically that there are no real excuses for not getting shape and going after your full potential as an athlete. That's a little background.
Ryan: Great. We'll make sure to have all the links to your Facebook and social media stuff. You post a lot of videos, Instagram, Facebook everywhere. I really suggest everyone check those out. They're wonderful. Really, what let you to create the 12 Minute Athlete? Did you have some sort of major life change and turning point, or was this just something that grew over time with you?
Krista: I lived in New York about five years ago. I was working as a personal trainer in a very popular gym doing really boring workouts where I would take a dumbbell and do bicep curls with it, and have these just really long pointless workouts where I was getting super burnt out, really bored, just kind of like, what am I doing? My clients, they were doing fine, but I just wasn't very excited about it. Plus, I was having to work out so much because I wasn't getting in the shape that I wanted to get in that I just really didn't have any time to do anything else. I had no energy to do anything else. I was just exhausted when I wasn't in the gym. It just felt kind of like this unending circle where I just hated my life.
I actually, then started doing Crossfit for a little bit, which was really fascinating. I really, really loved the high intensity part of it, however, I did get injured several times, so I stopped doing Crossfit, but definitely can credit Crossfit for my interest in gymnastics and body weight training in general. Once I kind of fell off the Crossfit wagon I just started being like, "Well, I really like the high intensity part of the workouts, not so much when it's combined with the Olympic lifting, but the body weight stuff and the plyometrics. I started just experimenting with HIIT workouts. All of a sudden I was getting in better shape, I was getting leaner, it wasn't as hard to stay fit. I was getting stronger, had better recovery, and my workouts starting getting really short. Then I could go and do other things.
I always like trying some sort of new sport or something. At the time I was learning to box. That was really fun as well. It was kind of just this evolution where I started personally getting the HIIT training and then I was like, "I want to share this with the world."
Ryan: Sure, now actually you moved from New York. When did you move? Oh, okay, so that was actually at that time. A lot of big changes were happening with you.
Krista: Lots of changes.
Ryan: Interesting story, actually. I guess it was last year, maybe the year before that, I was in L. A., and I was at a conference giving a I would say lecture, but it was more kind of like and event that we were doing. Lots of people there and this girl just comes bounding across the room and just this huge smile on her face. She's like, "Hey Ryan, what's up?" I didn't even realize at first, it was you. That was actually the first time that we met. We've know each other for a while before that but it was really cool. I was like, Oh my God, who is this gorgeous girl coming over here. I got really nervous. It was really cool, we had a lot of fun that day. Finally got to meet up.
Let's go back and talk a little bit about HIIT. For our listeners who don't know, what is HIIT, H-I-I-T, and how can it help us?
Krista: HIIT stands for High Intensity Interval Training. It's basically an advanced style of interval training where you alternate periods of short, intense exercise with some less intense recovery periods. This basically means you'll be working as hard as humanly possible for a very short amount of time, then you get to rest for an even shorter time and then work hard again. The really awesome thing about this is that an entire HIIT session really should take no more than 10 or 20 minutes. Pretty much because you can't work that hard for much longer that that. Once it goes above that time limit, you're going more into more moderate intensity training. That's why the workouts are so short, but they're also really hard.
Ryan: Yeah, no kidding. What's the reason for 12 minutes? Why did you choose the 12-minute mark?
Krista: Yeah, so you might not guess it from my workouts but I could be very lazy. When I was first coming up with these workouts for myself and for my clients, I really wanted an easy number that I could get an efficient workout in pretty much the shortest amount of time possible. For me, even 20 minutes seemed a little bit too long. It was like, "I don't want to do 20 minutes." I basically settled on 12 minutes because a lot of the workouts I do, I like to have six exercises, so with 12 minutes, the timer setting is either 18 rounds and there's 10 seconds rest 30 seconds work. You get to do those six exercises three times. It's basically just me being a little lazy. It's an easy number.
Ryan: That's actually good to hear, I'll tell you what. You know, a lot of times people really associate HIIT with super hardcore sweat-fest kind of workout and for burning fat. I mean, that's really kind of what it is, you know. Something that I really love about you is that you also spend a lot of time focusing on skill acquisition. How can we integrate both HIIT and skill training into our training, to be better and get even faster results. This really is our million dollar question. Everybody wants to know how we can combine these two in order to see faster and better results. How do we do it?
Krista: Yeah, if you do check out my social media Instagram and stuff, you'll see my personal progress. I've gone from not even being able to pretend to do a handstand to having a semi-solid one. The skill part, it's definitely been an evolution for me and hopefully for a lot of people I know, a lot of your readers and listeners and stuff. A lot of mine are similar. I love skill acquisition, however I do also really love HIIT training obviously. My kind of take it, you know very clearly that you can't spend 12 minutes a day working on your handstands or your levers or your whatever cool skill it is that you want to do, and make much progress. Those kind of things just take more time. It's more patience. It just doesn't work that way.
If you do add a HIIT workout into your training, three times a week, maximum maybe five times a week, that pretty much helps you get your conditioning out of the way. What this means is that you're going to have better endurance with your skill training. You're going to be able to maintain a lean physique, which is really helpful when you're doing body weight skill training because it's hard to be overweight. It's just not as efficient. Being leaner makes it a lot easier. It will also give you a base level of strength which will help you a lot when you're trying to build up to higher skill levels that require a lot of strength.
For me, I really saw this when I first started trying to do some tumbling gymnastics. I would take intro gymnastics classes and it would be a 90-minute class and I would get through it no problem and the people around me would just be kind of absolutely dead at the end. I really realized that all that HIIT training did, it just gave me that base level of conditioning so that I could practice these skills and not just get dead tired from it. That helped me make progress quicker and I've seen that with a lot of people too. It's very helpful.
Ryan: Totally makes sense. I totally agree with what you're saying. If you don't have that conditioning, just like what you said, it's going to be difficult to work on those skills later down the road. It's really good to hear that what you're doing, and by keeping the conditioning very short and to the point with purpose is actually going to be helping for everything else that you're doing.
Something else that I really like the way you do things is that you focus on things that make you feel good, instead of just exercising for the sake of exercise. I think Crossfit is a great thing, but let's be honest, it's more about exercising just for the sake of exercise in the sense of getting better at exercising. In your case, though, I know that's not the case because there's a lot of things that you want to be doing. You want to work on your skills and do the other activities in your life that you like doing.
Let's talk a little bit about real life. How do you decide what to do in your training, for the other activities in your life? Just like what you said, three times a week might be all you need for your HIIT training, how do you decide what you want to do in their training in order to help for it in your real life?
Krista: I like to have just a certain level of conditioning, which means I like to jump a lot. I love the jump rope. It's one of my favorite training tools ever. I bring it with me everywhere I go, when I travel and everything. I jump rope a lot. That, I think, definitely helps me if I want to go on a hike. All that jumping, hiking isn't as hard anymore. I still love to box, so that just kind of gets me a good level of conditioning. Gets me sweaty. Those two things are also really great stress relievers. Sometimes I really feel like I want to work on my handstands. It's almost a meditative thing now that I've gotten over that frustrating stage. There's sometimes that I have so much energy that I just need to punch something and get this energy out.
The things for me like the plyometrics, boxing, that kind of stuff, that is what I turn to in those times. Those kind of conditioning things also make it so that if I do want to try some new sport, or go on a long hike, or do something I've never done before, I have that base level of conditioning. I also personally always do the basics.
Ryan: Nice.
Krista: Almost every workout I do includes push-ups, pull-up, some form of squats, some form of plank something or other, just to keep those strength levels up. If you don't do them you'll notice the next time. If you even wait a few weeks, then it's like, "Oh, I haven't done this for a while." The basics are important.
Ryan: Oh, yeah. This is great. I really like hearing that. Something else I know is that recently you were in Europe, right? I assume you were still exercising? I assume.
Krista: I was. Six days a week.
Ryan: Okay, wow, great. What changed for you? Did you make any major changes when you're traveling, how do you do it really? I know that you mentioned the basics and I'm just assuming that of course you stick with the basics within your workouts while you're traveling and things but what were some things that you did change up while you were in Europe.
Krista: Yeah, so this is one of my favorite topics to talk about now because I used to have o idea how to work out when I was traveling. I would just do nothing and feel gross and fat and like I was losing all my strength and everything. Maybe I'd try to find a gym, and it's so depressing to go to a basic gym when you're on vacation. Now, I try to basically get as creative as possible. Like I said, I always bring a jump rope with me because that just gives me one tool, that even if there's noting else, I can still kind of add variety to my workouts. I basically have this thing every time I go to a new place, I scout out the area the night before-
Ryan: Okay, you and I are the same.
Krista: I'm like where is my workout going to be. I also scout out where I'm going to do, if I'm going to do HIIT training, where am I going to handstands. That kind of stuff. Usually, I'll find some sort of park. Sometimes I'll stay at an Airbnb or something that has a patio and then that's super easy. I'll just work out there. Then what I try to do is to get creative. I'll find a bench is super easy for things like step-ups or elevated push-ups. That kind of stuff. Simple, easy exercises like that. Then there's sometimes you can find corners of railings you can use and do dips on them. I'll find super funny things, like if there's stairs that have space in between the stairs, you can do pull-ups on those. There's all sorts of things that you can use for fun pieces of equipment. It really makes it fun so that the workout on vacation is, you basically have no excuse not to.
Ryan: I love it.
Krista: Yeah, jump rope and body weight exercises really. Just find a park or go somewhere. It's not that bad. The only thing is you will get plenty of looks like, if you're in Europe or somewhere, but it's okay.
Ryan: What about nutrition? Did you change things up or did you just say, "Hey listen, I'm on vacation, I'm going to enjoy it, I'm going to have a glass of wine, or two or three." What do you do when you're on vacation like that?
Krista: Again, I used to really obsess about it. I used to just only want unhealthy food when I traveled. Now, I've kind of built up this thing where my body actually craves healthy food, which actually makes it a little bit harder when I'm traveling because sometimes there aren't great options. What I really try to do is I'll bring some sort of greens drink with me.
Ryan: Nice, nice. I do the same thing.
Krista: It just makes it so that even if you can't get any vegetables that day you've got some baseline nutrition. I always do that. I do bring protein powder with me because I'm a dork. It's hard to buy other places. I usually try to find a place to stay that has a mini fridge or something so that way I can always eat breakfast at the place, and that ensures that it's a healthy breakfast. You can easily make some hard-boiled eggs or something if your place has a stove.
There's all sorts of things. You can get yogurt. Anything that you want from the grocery store. Store it there, just eat that for breakfast. I try to make sure at least one of my other meals includes as many vegetables as possible, so ideally I find a big salad for lunch. I just know that by now that makes me feel better, I have more energy throughout the day. If I go a day or two without many vegetables, I just do not feel good. Other than that, I definitely give myself some leeway. I want to taste the local food. I do want to have a glass of wine or three. Especially sitting by the river in Paris. That's like, you just got to do it.
Part of it is you just have to trust yourself and know that yeah, your nutrient might not be 100% on vacation, but once you go back, you'll be fine and you'll bounce back. These days, maybe I feel a little bit bloated for a day or two, but I bounce back within two days. It's great because I used to think that a week vacation was going to ruin everything that I worked so hard for, but it's not like that. Your body will bounce back. When you're used to eating healthy, it's going to crave those healthy foods. When I get home, one of the things I crave the most is sweet potatoes because I can never get them out. I'm like, "Yay, I got some baked sweet potatoes."
Ryan: Well come on over to Japan. You can have your fill over here because everywhere you go they've got sweet potatoes. Its great.
Krista: Really? Oh.
Ryan: Oh, yeah. We talked a lot about HIIT and body weight exercises and how they compliment each other, but what's your advice as far as starting out and then actually staying motivated with this type of training?
Krista: My best advice is to start slow. Don't immediately try to do HIIT work outs six days a week, twice a day. You will get burnt out, you will get injured. You will get very bored of it. What I recommend is to start maybe three to four times a week. If you're already doing some sort of body weight training and do the HIIT workout at the end of your workout. Do not try to do a super sweaty hard HIIT workout and then work on your handstands, because as you know, it's just not going to work the same. The other cool thing about HIIT training is that you'll probably start to notice a difference in your level of conditioning within just a couple of weeks. After you've adjusted to that workload you can decide whether you can add in more or not, based on your goals. If you're already doing one of your guy's programs and working on your flexibility and all this other stuff, you might decide that you don't really need more than three times a week. At some point, yeah, you're just exercising to exercise and there's really no point in that. The point of HIIT training is to just get it over with and then get on to the fun stuff or life or hanging out with your kids, whatever it is.
Ryan: I love it. Good stuff. Any last words of wisdom for listeners out there?
Krista: I really can't stress enough to just have fun with your training. Getting fit and strong really doesn't have to mean spending hours in the gym working out like a body builder and focusing on each individual muscle. Learn to use your body like it's supposed to be used functionally, and you'll actually start enjoying your workouts. It will start feeling more like play, which changes everything. Once you're excited to work on a skill or excited to get sweaty and then move on with your life, it becomes so much more fun and you'll start building up strength and to be able to do cool things that you only thought superheroes could do. Just have fun with it. Play more. That's about it.
Ryan: All right. You can find out more about Krista and 12 Minute Athlete. We'll have the link up here for you. It's twelveminuteathlete.com. Also you've got an app and it's a great app. You could find that on her page as well, it's also in the iTunes App store. Of course, once again, we'll have all the links up here for you to check it out.
Thank you so much for being in there with me today. I really look froward to taking to you again soon.
Krista: Thanks for having me. Awesome.
Be sure to catch the next episode by subscribing to the GMB Show:
The Future is in YOUR Hands!
Left to our own devices, we'd soon be churning out episodes on the sorry state of Mexican cuisine in Osaka. Answer these questions and tell us what you want to hear:
';