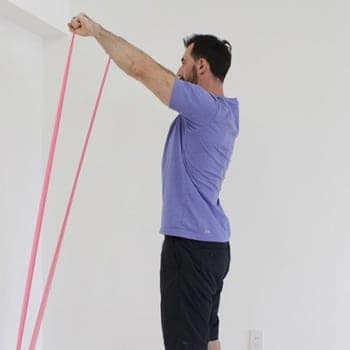 When you're injured, all you can think about is how to heal your injury so you can get back to doing what you love, and once you've overcome an injury, you want to make sure you can prevent more injuries (or the same injury!) from happening again.
The good news is you can overcome your injury, and while you can't avoid injuries altogether (sometimes, things just happen!), there's plenty you can do to protect yourself from future injuries.
In Chapter 1, we went over the different types of injury so you can understand what's going on with your body, and in Chapter 2, we talked about how and why movement is the best medicine for overcoming most types of injuries. In this final chapter, you'll see that in action, and you'll come away with some movements and other resources that will help you heal and prevent injuries.
How to Get Moving Again After Your Injury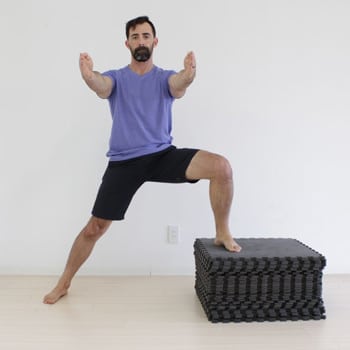 Once you've got a good understanding of where your injury is coming from, it's time to start addressing your problem head-on.
(Make sure to first read the section in Chapter 1 about whether or not you should see your physician or physical therapist before trying to fix things on your own. If your injury falls under the "you can probably manage it on your own" category, this section will be helpful in getting back to normal.)
If you've been sidelined by an injury but you're ready to get back to it, these resources are a good place to start.
We'll start with a more general approach that will help you address gaps in your strength, flexibility, and motor control, then we'll give you some specific recommendations for common problem areas.
Locomotor Solutions for Your Injury
There are a lot of different approaches to work through an injury–stretching, isometrics, foam rolling, self-massage–these are all great options.
Our favorite approach, though, is to use locomotor movements to work on strength, flexibility, and motor control all at once, so that you can fill in the gaps that led to your injury in the first place.
We start with specific movements but the ultimate goal is to get you feeling better so that you can move however you want and need to move. Here's a good example of one client who's used the locomotor patterns we teach to work through his injuries:
Here are three specific movements you can work on:
1. Bear
We'll start with the basic Bear crawl, which looks like this: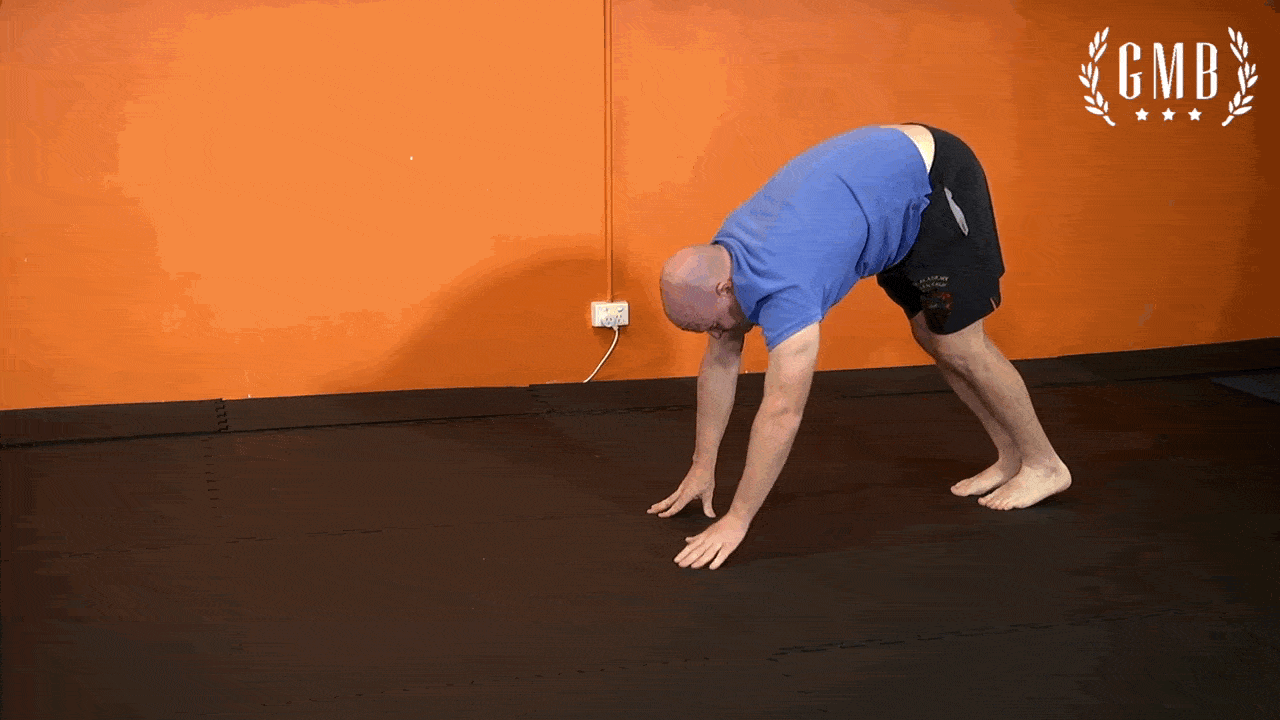 Start in a downward dog position, with your butt pushed up into the air.
Press your palms into the ground as you walk forward by sliding your right arm and left leg forward at the same time.
While still pressing your hands into the ground, move your left arm and right leg forward.
Keep up this contralateral pattern as you move slowly and with control
With this drill, you have control over how much pressure you're putting through your wrists, This means you can adjust your pressure as you improve your strength and mobility over time. Start by setting a timer for one minute and working your way up to doing the Bear continuously for the full minute. At first, you may only be able to do 10 or 20 seconds at a stretch, but over time that will improve.
2. Monkey
Next we'll work on the Monkey, which looks like this: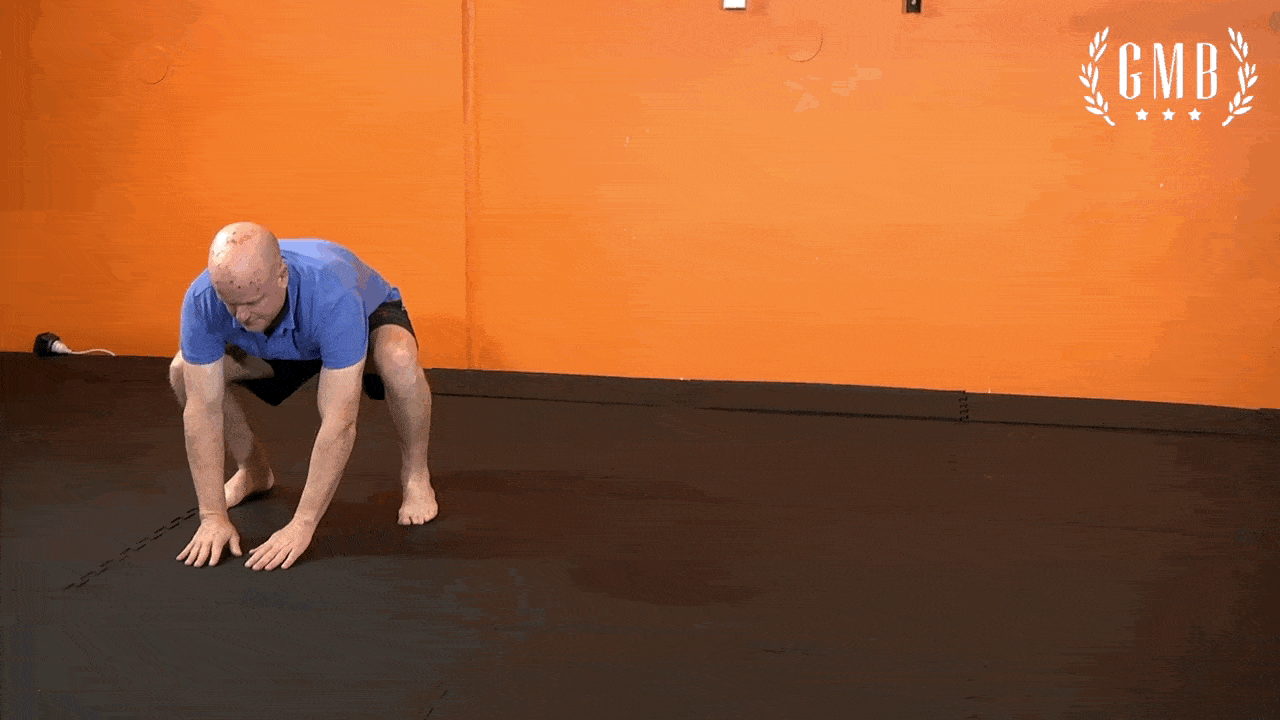 Start by dropping into a deep squat position (as deep as you can comfortably go).
Place your hands on the ground to the front and outside of your leg, so that your right hand is just in front of your left foot and your left hand is about a foot apart from your right hand.
Press into the ground as you pull your legs over to the left, landing with your right foot just behind your left hand.
Keep going toward the left for several paces in a row before switching directions.
Focus on moving slowly and with control as you work through this movement. Be mindful with each repetition, focusing on how your body is feeling and on gaining more motion wherever you feel restricted as you improve.
Set a timer for one minute, making sure to work in both directions.
3. Frogger
Finally, let's work on the Frogger, which is similar to the Monkey but looks like this: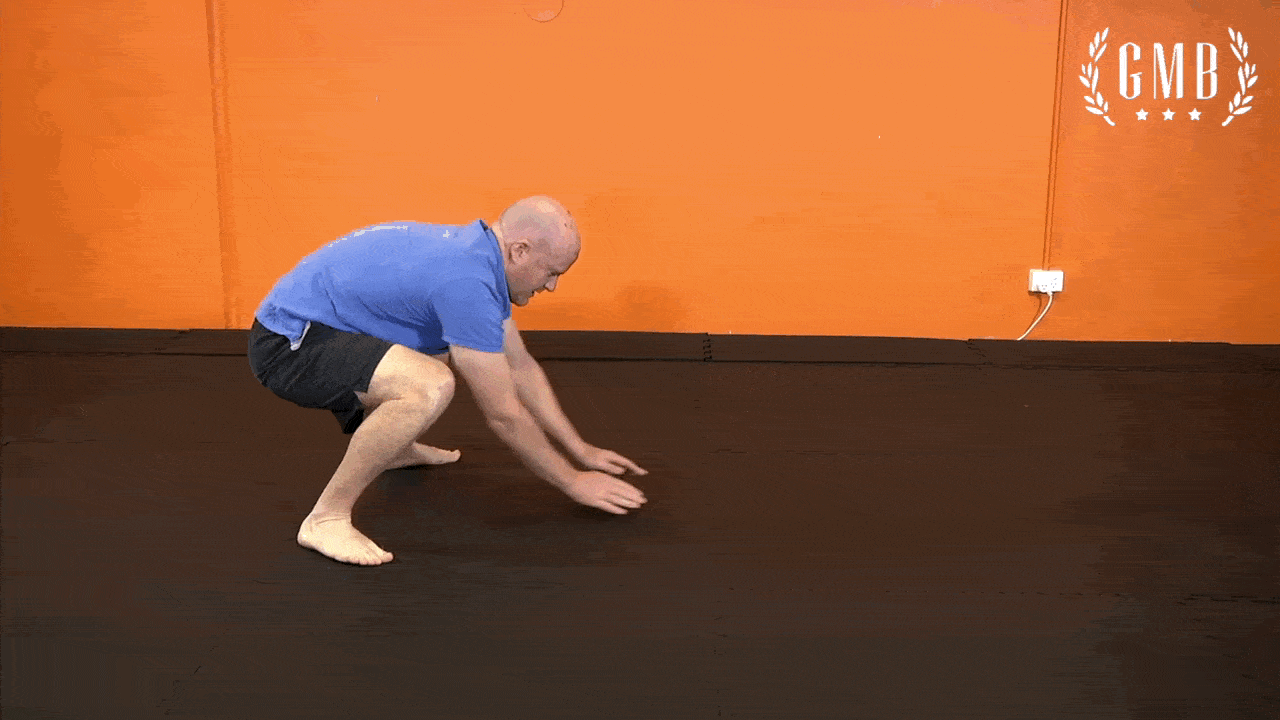 Similar to the Monkey, you'll start in a squat position, going as deeply as you can comfortably go.
Place your hands on the ground about a foot in front of you, with your hands just inside your knees.
Press into the ground to hop your legs forward to meet your hands.
Reset your hands so they are in front of you, and keep moving forward in this fashion.
Again, focus on moving slowly and with control. Set a time for one minute, and move continuously. Take breaks as needed.
Specific Solutions for Common Problem Areas
We've written articles on all the major body areas that are most commonly affected by training related injuries.
If you're dealing with an injury or problem area, or if you want to prevent future issues, start by reading the appropriate article(s) and implementing the strategies we recommend within:
In each of our body maintenance articles, you'll see that we address the problem at hand through combined work on strength, mobility, and motor control.
Our full Body Maintenance Guide will give you all the information and exercise recommendations you need on hand to work through your injury, so you can get back to doing the activities you love as soon as possible.