And when you're riding the roller coaster of mental illness, everyone has an opinion on what you should be doing.
"Just tell yourself you're happy!"
"Change your diet!"
"Give yoga a try!"
Some advice is more well-meaning than others, but when you're at a low point, unsolicited advice (of any kind) is the last thing you want.
So, before we get into the main points of this article, please know that the advice herein is available to you if and when you want/need it–if you're not ready for it right now, you can always bookmark this page and come back to it later. And of course, this advice may not be appropriate for everyone or for all conditions.
Mental illness can be so difficult to navigate, but one thing the research (and countless anecdotal reports) has shown over and over is that exercise is an essential part of managing the ups and downs of mental health.
In this article, we'll talk about the relationship between training and mental health, while addressing some of the major challenges you may face.
Our free Strength and Mobility Kickstart will introduce you to a mindful approach to exercise, showing you how to make it a part of your self-care routine.
Exercise is Good for the Mind and Body
It isn't news that exercise is an integral part of keeping your body healthy, and you probably already know that it's good for your mental and emotional health too. But you may not know how, and understanding that can make a big difference in whether or not you make it a regular part of your preventive health routine.
Here's a little overview of what the research has to say about how exercise can help with a few of the most common conditions:
Depression–There are multiple mechanisms by which exercise can help with depression, the primary being that exercise enhances neurogenesis–the creation and maintenance of neurons–in the hippocampus.
Anxiety–Exercise helps to reduce norepinephrine in key areas of the brain that are involved in causing anxiety.
Bipolar Disorder–Related to the mechanisms in depression, the biggest benefit from exercise for bipolar disorder is the enhanced release of BDNF (brain-derived neurotropic factor).
Many things happen in the brain when you exercise, and the most fascinating part is that it doesn't seem to matter what kind of exercise you do. The research across the board does not suggest that one type of exercise is more beneficial than another for mental health.
What that means is you have a lot of flexibility to choose activities that you find enjoyable (which we've always recommended).
Three Specific Benefits of Mindful Exercise
So, we know that exercise in general has all sorts of benefits that can be tremendously helpful for someone battling a mental illness. But there's even more you can get from training when you approach it with an emphasis on mindfulness, and the benefits for mental health are far reaching.
1. Helps You Get in Tune With Your Body
One of the most disconcerting parts of a depressive, anxious, or otherwise emotionally challenged episode, is that you can feel totally disconnected from your body, kind of like you're floating.
While being in touch with your emotions is good, when you're going through a tough episode, it's important to give yourself a sense of grounding, and getting in tune with your physical body is a great way to do that. It can help you feel more secure and at ease.
Moving mindfully means paying attention to how your body is feeling and responding to your movements. When you're paying such close attention to your physical senses, you'll become much more in tune with your body.
2. Allows You to Connect Emotions to Physical Movement
Conversely, physical movement can be an expression of your emotions.
If you're feeling sad, you may move more slowly, allowing your sadness to seep through your fingers in a bear crawl. Anxious energy may express itself in a more frenetic monkey, and you may focus on how moving side-to-side (rather than going in a forward trajectory) connects with how you are feeling at the moment.
Alternatively, if you want to draw yourself out of a particular emotional state, you can use your movements to express the opposite of how you are feeling (e.g. moving with joy when you are sad, or using calm and directed movements when you are feeling anxious).
Those are just examples, of course, but the idea is that moving with this sort of mindful attention can help you express or navigate your emotions in a physical manner. This can be very helpful for many people.
3. Brings Added Meaning to Your Self-Care
Self-care means a lot of different things for different people. For some people, getting a weekly massage is an essential part of their self-care, but for a lot of people, the most important types of self-care are the basics:
nutritious food
, regular exercise, spending time with friends, etc.
One part of mindful training that we've always encouraged is to bring awareness, not just to what your body is doing and feeling while you're moving, but also to your why–what's important to you, and why is exercise a part of that?
Being mindful of that will bring a lot more meaning to your self-care than just going through the motions because the research says you should.
A Realistic Look at the Challenges You May Face
That all sounds great in theory, but if you're actively battling a mental health condition, it may not sound realistic, and I get it.
I started training regularly about 6-7 years ago, and I fell in love with it, to the point that it's become a big part of my identity. But when I went through a particularly rough depressive episode a few years ago, exercise was pretty much the last thing I wanted to be doing.
You may be dealing with some serious physical and emotional lethargy, anxiety, feelings of "stuckness," and a whole lot more that can stand in the way of a consistent training regimen.
And that's okay.
Exercise can be an important part of helping you manage mental illness, but it's okay to recognize that it's going to be harder at some times than at others. The most important thing is to make sure you're getting the help you need in those particularly difficult times.
Precision Nutrition made this graphic that perfectly demonstrates the best way to approach exercise, particularly when you're in a bad place and fighting the motivation monster: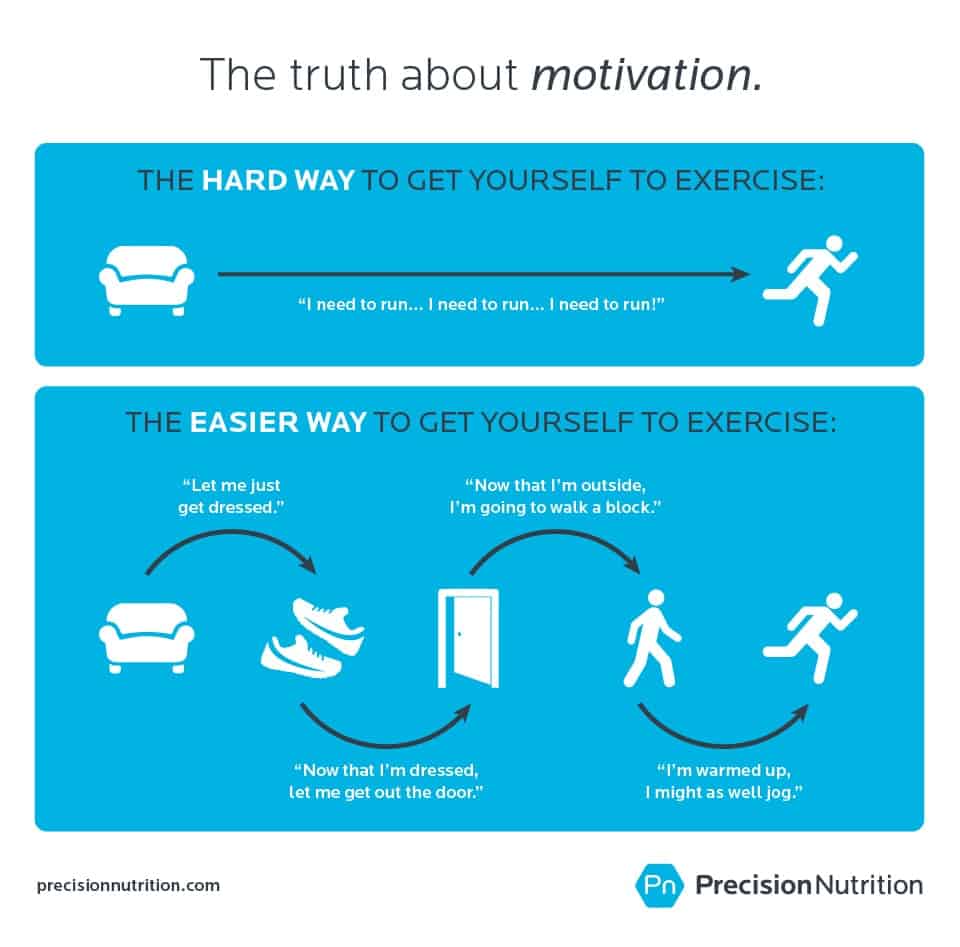 You might have days where you don't get past the first step (getting dressed), but hey! That's a win you can celebrate.
What to Do When Things Are Really Bad
First thing's first: If you are having thoughts of harming yourself or others, please see your doctor or
call the National Suicide Prevention Hotline
immediately
.
This is not a time to see if going for a jog or doing some Bear crawls will help you feel better. Drop everything and get the help you need.
If you're not feeling quite that bad, though, you still might be having a really tough day or week or month. What should you do? Obviously, everyone's situation is going to be different, but there are some staples that are important for most people during particularly challenging times.
Reach Out to Loved Ones
This is one of the most important things you can do, both when you're going through a hard time and as a preventive measure. Having a
strong social support system
has been shown to be one of the most protective things you can do for your health.
When you're going through a hard time, you may feel like you are being a burden on others by reaching out. You're not.
Your friends and family want you to be okay, and everyone has their shit. You might be surprised by how much common ground you find with the people you love when you open up to them.
Get Fresh Air and a Little Movement
If you can, spending just a few minutes outdoors can help to draw you out of a bad place. And it can be especially helpful to pay attention to your surroundings–the leaves rustling, the breeze across your face, the sound of a dog barking down the street.
Paying attention to these things can help you feel connected to nature, which is important when you're feeling disconnected in general.
When you're in a particularly bad place, it may not be the time for an all-out workout (you have to know yourself and what is best for you). But a little mindful movement can go a long way (even just working on a simple stretching routine like this one can be helpful).
Just like we described above, connecting your emotions to movement can be very effective for helping you feel more grounded.
Be Patient with Yourself
The importance of this cannot be overstated. When you're going through a challenging time, you may be particularly hard on yourself, disappointed when you can't live up to your own expectations.
But try to be patient with yourself. Allow yourself the time you need to work through this difficult time.
For the vast majority of people with mental illness, there is a cyclical aspect to these conditions. What goes up must come down, and vice versa. When you're feeling better, that's the time to push yourself and make sure that mindful exercise is a staple in your self-care routine. When you're feeling worse, you'll probably scale that back. And that's okay.
Ask for Help
The spectrum of mental health conditions is infinite, but no matter where you fall on that spectrum, there are good professionals who can help you navigate the ups and downs of what life throws at you.
It can take some time and effort to find the right person–and the right person may change as you grow and improve–but it's worth the effort to get the help you need. Even if you've been handling your condition on your own for a long time, there is so much value in getting support from a qualified professional.
Let Movement Help You Take Care of Yourself
Mental illness is a complex beast that can take on many forms, and there's no way to distill recommendations to simple steps that will work for everyone–that's impossible.
But just like with any aspect of life or training, the basics will take you a lot further than you might think.
We know how beneficial exercise can be for mental health. Along with eating a nutritious diet, having a strong social support system, and getting professional help when you need it, exercise can be an essential piece of the puzzle in keeping yourself (mind and body) healthy.
And when you add mindful movement to that mix, the benefits are endless.
Our Elements program is a good introduction to mindful movement. It removes the guesswork for you, so you can prioritize your mental and physical health without having to worry about how to do that.
Keep Yourself Healthy with Mindful Movement
Elements will help you make mindful movement a part of your self-care routine, helping you connect your emotions with physical movement.
Got something to say? Join the discussion over on Facebook.
Depression and anxiety–and the hundreds of other mental health conditions a person may face–can be ugly, terrifying, and difficult to navigate. (I know, because I've battled depression and anxiety for over 15 years).